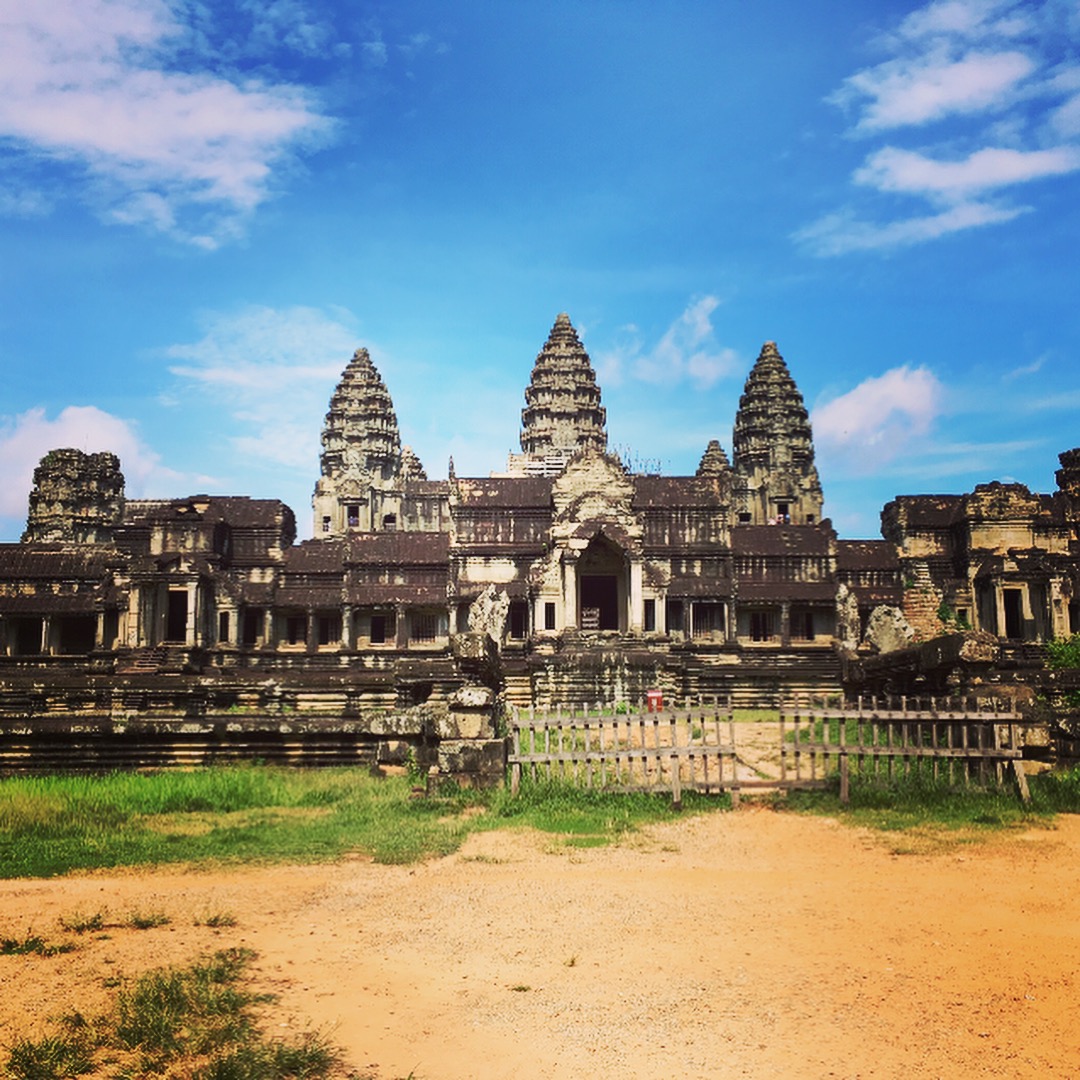 In the 28 years and 11 months of my life, I have spent less than 24 hours in Cambodia. Still, that was sufficient for me to definitively call it one of my favorite places in the world. From the friendly people to the beautiful landscapes, to the rich (though sometimes sad and terrifying) history, Cambodia is one of the best countries to visit, and I cannot wait to return.
Siem Reap
My trip to Cambodia centered around Siem Reap, the city closest to the Angkor temple complex. Upon exiting Siem Reap's airport, my friend Sarah and I were greeted by David, an employee of the hotel we were staying at, with a big smile and a sign with our name on it. David took us to our transportation – a personal motorized tuk tuk – helped us secure our belongings, and then got on board with us and handed out cold Cambodian beer.
Once we arrived at our hotel, the Khmer Mansion Boutique Hotel, the incredible service and amenities continued and the staff went above and beyond to care for us, even though we were only staying for one night. It may have helped that (as far as we could tell) we were the only guests there at the time, but I cannot speak highly enough of the place, especially for less than $50 per night. For example, when we first arrived Sarah and I were given welcome refreshments, and then found our names laid out in flowers on our beds in the room. David was identified as our personal assistant during our stay, and though we did not ask much of him, he was always available when we called.
Seeing as we only had one night to enjoy the city and we had to be up at 4 AM the next morning for a sunrise tour of Angkor Wat, we grabbed a quick happy hour drink by the pool and then set out to find some dinner before bed.
Siem Reap is a small "city" in a less-developed country, but it has a bustling night life! Most of the activity happens on Pub Street and in the Night Market, both of which were walking distance from our hotel. Because of the tropical climate, all the bars, clubs, and restaurants are open-air, with a few stand-alone locations in the middle of the street, like this bar on wheels.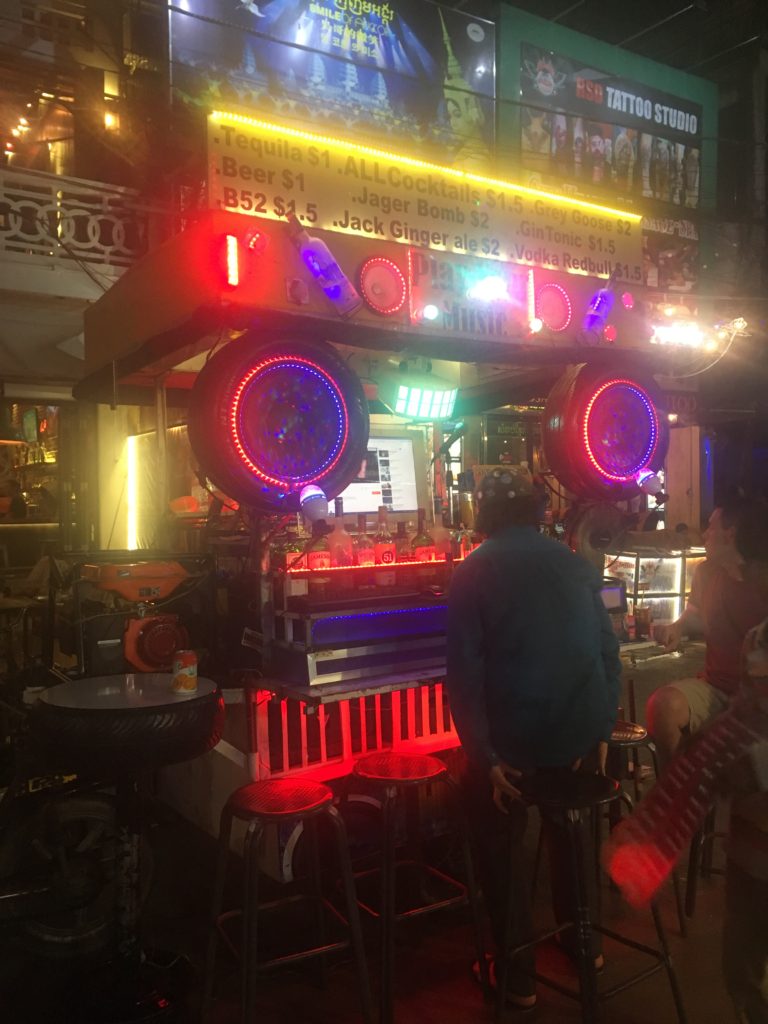 We found a nice restaurant to eat dinner at on Pub Street and then wandered through the Night Market and back to our hotel before calling it a night. While we did not do any shopping that night, we did take a quick break for a foot massage and fish pedicure! The fish actually eat the dead skin off your feet for a few minutes, leaving them feeling very smooth afterwards. The experience is as strange as it looks. Be warned if you have a fish pedicure yourself that it tickles: I spent most of the time with the fish laughing out loud, both from the tickling and at the absurdity of what I was doing!
Angkor Wat
The next morning we woke up at 4 AM to meet our tour guide for Angkor Wat . You've no doubt seen photos of the Angkor temples before, likely at least Angkor Wat; perhaps you learned about the temples from watching Angelina Jolie in the movie Tomb Raider, which was filmed on-site in Cambodia. However, as with many wonders in the world, photos and videos do not do this area justice. First of all, the Angkor complex covers over 400 acres, so it is incorrect to think of it as just one temple. Second, the temples are awe-inspiring in person in a way that cannot be conveyed through photos. Finally, being able to actually touch, climb, and walk around in the temples is an experience that could never be brought to life with a picture. I spent the entire day being enraptured by the temples we explored, each so different from the others and yet connected through their stories and history, both ancient and modern.
The Angkor temples were created as part of the capital city of the Khmer Empire beginning in the 9th century AD. Influences from many different religions can be seen within the temples thanks to their transferred ownership over many centuries. The main religions seen in the architecture are Buddhism and Hinduism.
In the 1970s, the Khmer Rouge took over Angkor Wat as offices and living quarters as they carried out a genocide across Cambodia. Our tour guide told us a heartbreaking story about how his parents were killed by the Khmer Rouge when he was seven because they were educated (a lawyer and a doctor). Our guide was forced to collect elephant dung from the fields during the Khmer Rouge's reign, and did not go to school again until he was 16 years old. The fact that he was fluent in English was unbelievable after learning this, but even more unbelievable was how he told this story so matter-of-factly after pointing out some Khmer Rouge bullet holes in the side of Angkor Wat. The country has put itself back together the best it could after the genocide, but signs of pain are still all around even forty years later, from the warning signs for landmines to the jewelry made from bullet casings found in the fields.
The rich history of the Angkor temple complex, along with the unparalleled beauty of the area, makes for an amazing day.
Here are some things to keep in mind if you take the trip yourself to see Angkor Wat and the other temples:
All visitors must have their shoulders and knees covered during the visit. When temperatures soar over 90 degrees and humidity is high, this can seem prohibitive, so I recommend investing in a pair of linen pants or sweat-wicking leggings and a light-colored, light-weight or sweat-wicking t-shirt.
Many different tour options are available to visit the complex. We opted to upgrade and take a private tour in an air-conditioned car. Although the price was high compared to other options, we had no regrets: we got to cover more area and see more remote temples than if we had tried to walk everywhere, and it was so refreshing to get back into the air-conditioning to move to the next location each time. By the end of the day we were feeling bad for the people who had chosen tours by the open-air tuk tuks, and even with our method of transportation we still got in a lot of walking and exercise within each of the temples.
The sunrise tour is worth it, despite the early departure time. There are mixed opinions on the internet about this, and we did not get to see a sunrise as much as a "sky lightening," but driving to the temple complex in the pitch black and experiencing Angkor Wat first thing in the morning without many people was pretty cool. If you take this option, you will end up standing across a pond from the temple for at least an hour waiting for the sun, but it is worth arriving early to get a spot in the front row. Be sure to hold your ground, as many more tourists will arrive just before the sun rises and try to push to a front position. After sunrise you should be able to return to your hotel for breakfast before the full-day tour begins.
On the other hand, the sunset from the top of the hill is not really worth it. We trekked up the hill at least an hour before sunset and found that there was nowhere to sit that would provide any type of reasonable view. After wandering around for 15 minutes exploring this final temple we decided not to wait for a "sky dimming" similar to the "sky lightening" that morning.
In just one day we were able to see the three main temples (Angkor Wat, Ta Prohm, and Angkor Thom) as well as two other more remote temples, but in the future I would give myself two or three days to explore more of the Angkor complex, plus another day or two in Siem Reap and the surrounding area. One day was not enough!
Here is a link to the tour company we booked through: Happy Angkor Tour. At this time I receive no compensation for you booking through this tour group, just the satisfaction of helping you on your travels and directing customers to a survivor of a devastating genocide.
After visiting Cambodia, I wanted to learn even more about its recent history and the Khmer Rouge genocide because the effects were clearly so raw with the Cambodian people. I recently read First They Killed My Father: A Daughter of Cambodia Remembers (P.S.)
by Loung Ung, a survivor of the genocide: if you want to learn more about this period of Cambodia's history I highly recommend this well-written and well-thought-out book.
Love this post? Save it on Pinterest for later!