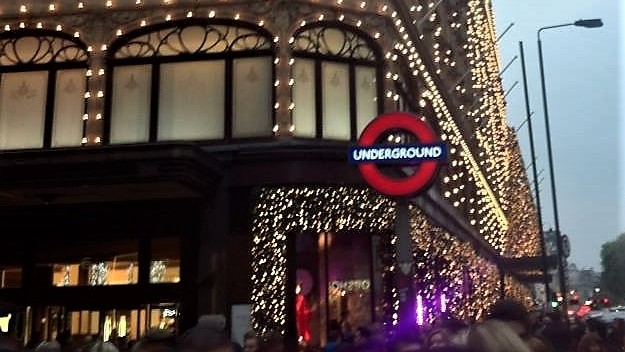 London is my favorite city in which to celebrate the Christmas season!
When I was in law school, I had the privilege of spending a Fall semester studying at University College London and living in Holland Park. During this time, I experienced my first Christmas season in London. I had no idea an entire city could be so festive and enveloped in the Christmas or holiday spirit!
In the United States, most people feel that we Americans must wait until after the Thanksgiving holiday to begin our Christmas celebrations. Because the British do not have this restriction, they begin decorating and celebrating around the second week of November. This provides ample time to enjoy the city's decorations and participate in all its Christmastime activities. While the Christmas season is ending soon, if you ever have the opportunity to visit London in November or December, definitely take advantage of it and enjoy celebrating Christmas in London!
Trying to plan a trip to London? Check out this post about the best ways to get there!
Hyde Park Winter Wonderland
If you only have time for one Christmas activity in London, you must go to Hyde Park's Winter Wonderland! Filled with Christmas markets, refreshments, music, and activities (including an outdoor skating rink), Hyde Park's Winter Wonderland has something for everyone. This market was the highlight of my time in London, and will be the first thing I do the next time I am in London for Christmas.
Best Christmas Decorations in London
The entire city of London is decorated for Christmas. Some of the best places to enjoy the decorations are on the streets of the city center and at the department stores, where you can enjoy both the window displays and the interior decorations.
On the Streets
Department Stores
London Christmas Markets
Germany may be the country best-known for its Christmas markets, but London offers over a dozen to pick from throughout the city. Each market is unique. Though I would recommend visiting as many as possible - even just to wander around with a cup of mulled wine - so long as you get to one you will have the unique London Christmas market experience.
Christmas Activities in London
Once you have had your fill of walking around London's Christmas markets and looking at the decorations, you can continue to enjoy the other activities available throughout the city. Finding an outdoor skating rink is one of the most popular activities. You may also happen upon a street party, as I did on the opening night of Carnaby Street's Christmas festivities. Westfield London helps children and families visit Santa's Grotto each year. There are always the typical London highlights to partake in as well, such as going for a ride on the London Eye or seeing a show in the West End, made extra special with a Christmastime flare at this time of the year.
Christmas Dinner in London
Starting in September you will see British restaurants advertising for customers to make reservations for Christmas dinner. Many locals will celebrate Christmas in London with their friends in the weeks leading up to December 25th by going out for a proper dinner.
I was fortunate to attend two such gatherings when I lived there: a party at Little Bay Farringdon with my school program and a celebration at The Oak in Westbourne Park with my roommates. (N.B. the Farringdon location has since closed, but the restaurant still has locations in Battersea and South Croydon). Christmas dinner is something Londoners place great emphasis on. Be sure to make your reservations early and enjoy this popular tradition!
Discover more Top London Restaurants in this post!
Love this post? Save it on Pinterest for later!