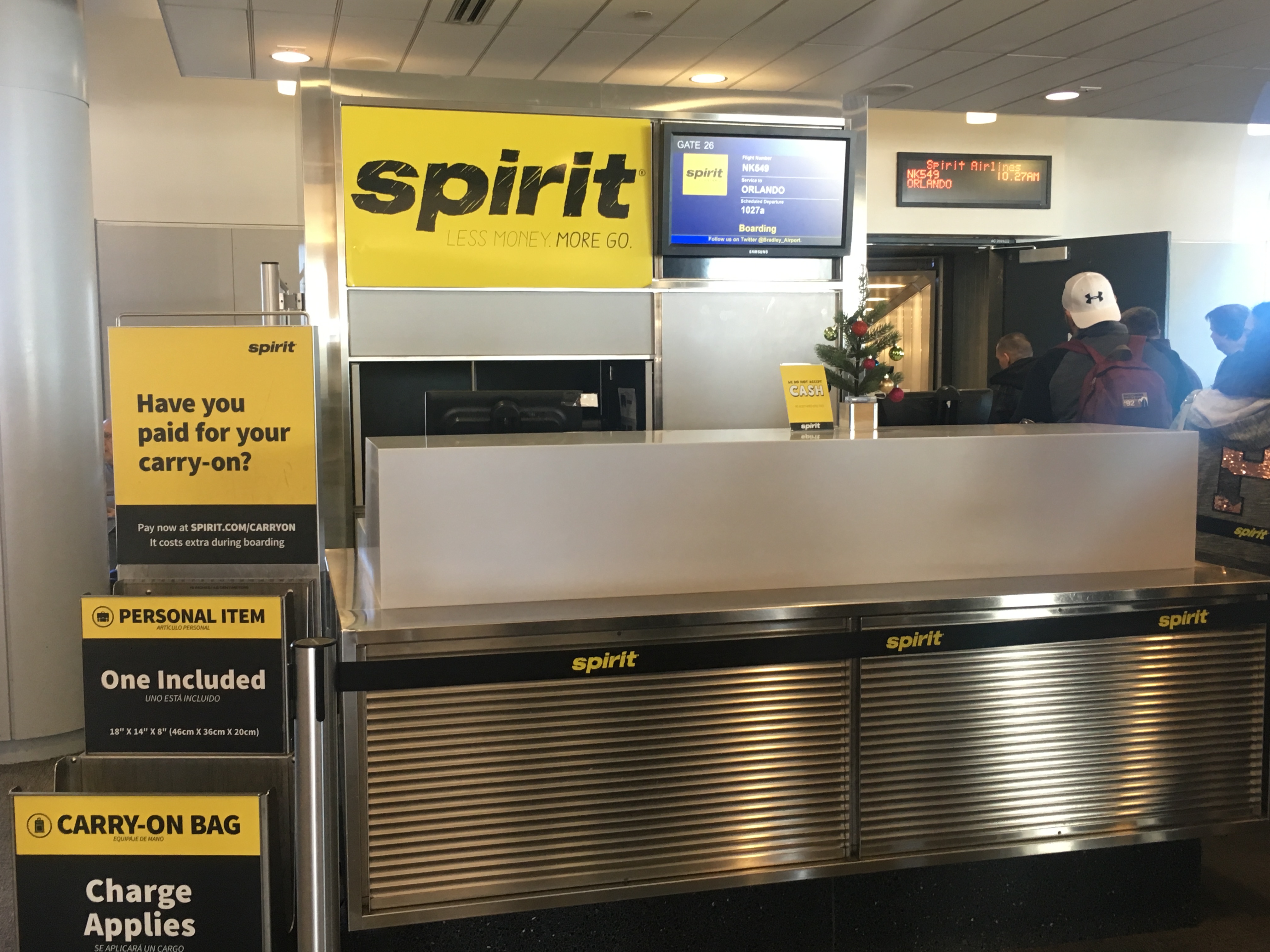 Thinking of flying Spirit Airlines? Then this review is for you!
Last month I took my first flight on Spirit Airlines, an American "ultra-low-cost" or budget airline. I am not a stranger to budget airlines. When I lived in Europe, I took dozens of flights on airlines including RyanAir and EasyJet. I also used budget airlines to travel around Asia. However, my experience on Spirit was my first with an American budget airline.
*N.B. this article contains affiliate links. That means that if you make a purchase after clicking one of these links, I will earn a small commission at no extra cost to you. Thank you!
Booking
Pricing
Being a budget airline means you the passenger get a really cheap base-price ticket on Spirit, but then have to pay for any and all extras that may typically be included by a mainstream airline. This is true of most budget airlines: for anyone that has flown on RyanAir, perhaps you remember the flight attendants selling lottery tickets during the flight to increase revenue. I'm glad Spirit doesn't try that, but I've heard rumors they may start charging a fee to use the lavatories.
If you are willing to forego or pay for flight extras, Spirit Airlines is worth the low price. Many people falsely believe that budget airlines lack safety features that mainstream airlines provide. They do not. All airlines operating at U.S. airports must pass the exact same safety tests. Airlines cannot cut corners on safety for price savings. Instead, they pay lower airport "rental" fees which means they will be last priority for take-off if there is a delay, for baggage claim after a flight, and for other similar operations. There is no need to be more concerned about safety when flying on a budget airline such as Spirit Airlines than you would be on any mainstream airline.
Purchasing Flights
My experience purchasing flights on Spirit Airlines was as easy as with any other airline. I needed two seats on round-trip flights from Hartford, Connecticut (BDL) to Orlando, Florida (MCO). When I searched for one seat, the price was $409 USD, but when I searched for two seats, the price was $472 USD each!
Note: this will happen on any airline selling a set of seats at one price and the next set of seats at a higher price if there is only one seat left. All seats in a purchase will be quoted at the higher price.
Knowing this, I booked the two seats separately for an average price of $440 USD. The next cheapest flight for my itinerary on a mainstream airline was over $600 USD, so the savings were significant. The purchases were made smoothly. I did not experience any glitches with the website or issues with the purchasing process.
The BAG Decision
Most travelers in America are used to being charged extra for a checked bag, while being allowed to bring a personal item and a carry-on into the aircraft cabin for free. Spirit Airlines only allows one personal item for free. You must pay for your carry-on item in addition to any checked bags. The fees for these bags are much higher than mainstream airlines as well.
The one upside to Spirit's baggage policy is that the personal item allowance is very generous at 18 in. x 14 in. x 8 in. My standard long-weekend Longchamp travel bag is 17.75 in x 13.75 in x 9 in, with soft sides. With a little squishing I could get it to qualify as a personal item on Spirit and avoid the baggage fees. This is true of many small backpacks and large tote bags or purses. If you are going on a short trip to a warm locale, you may not need to pay for any bags on Spirit.
Check out my post on How to Travel the World with One Carry-On to get more tips on packing light for any vacation!
Spirit charges different bag fees depending on the flight you book. Their website offers a bag fee calculator for your specific flight. For the Hartford to Orlando flight, a carry-on selected during booking would cost $32 per passenger, and a checked bag would cost $37 per bag. My travel companion and I decided to purchase one checked bag to share and no carry-on bags. The price to check a bag or carry it on increases at each process point until you board the plane, so it is beneficial to decide early. I've heard stories of Spirit Airlines charging almost $100 for a carry-on when the passenger decided she needed it as she was boarding the plane!
Check-In
Online
Online check-in for Spirit begins 24 hours before the flight departs. This is typical for most American airlines. When I travel, I almost always check-in online and use a mobile ticket. When I do this, I sometimes get worried about losing my Internet connection just as I reach the front of the security line, so I save my mobile boarding pass to my Apple wallet, take a screenshot of it, use the airline's app, and make sure the email is loaded. I assumed I would do the same for my mobile boarding pass with Spirit Airlines.
My travel companion always prefers printed hard-copy boarding passes, so he printed his out. I did not. On the drive to the airport, I tried to pull my boarding pass up on my iPhone. The emailed boarding pass would not show the QR code (similar to a barcode on paper boarding passes). I checked online and found that this is a common error with the Gmail app. I tried to open the boarding pass using Gmail on the Safari web-browsing app but had the same issue. Forwarding the boarding pass to my ancient Yahoo! email account did not help either. The Spirit app was completely defunct so that wasn't an option either. It was starting to look like I was out of options.
At the Airport
At this point I was worried I'd have to pay a hefty fee to have a Spirit agent print my boarding pass for me. I saw a number of Spirit check-in kiosks in the arrivals terminal, so I gave one of them a try just in case. As with all mainstream airline kiosks, I pulled up my reservation and printed my boarding pass for free! I used this same method on my return flight from Orlando to Hartford, and it was once again free.
I highly recommend printing your Spirit boarding pass before arriving at the airport just in case, but know that you should be able to obtain one for free at an airport kiosk if necessary. Either way, you probably will not be able to use the mobile boarding pass option.
Dropping off the checked bag was a breeze. There is a 40 lb weight limit. Our bag was weighed for both flights, and I saw one woman trying to readjust her belongings to make the limit, so it is enforced.
Boarding
The boarding process was a bit of a fiasco. I have no idea how we left on time. My travel companion and I were in Zone 2. When we arrived at the gate, we  had at least five minutes before boarding began. Despite this, the entire plane of passengers was crowded around the boarding lane. The agent at the desk was simultaneously telling them to move back and trying to handle pre-flight issues. Nobody would listen to her. I understand if you are a Zone 1 passenger milling around the lane entrance, but there were too many people for that to be the case.
When boarding began, the standard "passengers flying with small children and those who need extra help boarding" were invited on the plane first followed by military personnel. Seeing as Spirit does not have a "First Class" section, Zone 2 was called shortly after these passengers. My companion and I made our way through the sea of passengers surrounding the boarding lanes to get on the plane.
On the Flight
The three-hour flight experience was reasonably pleasant.
BIG Front Seats
I was planning to sit in a normal economy seat. I booked a ticket for an (unassigned) economy seat. However, over Christmas dinner a well-traveled family member recommended upgrading to the BIG Front Seats. I was hesitant, seeing as I was flying Spirit Airlines in an attempt to save money, but my travel companion convinced me the upgrade was worthwhile. He was right!
We paid $55 per person per flight for the upgrade. This was the price quoted us after booking the flight but before check-in. I expected seats similar to "Premium economy" on mainstream airlines. This would provide another 2" or 3" of pitch and 2" of width on the seat. Instead, we were treated to large, comfortable First Class type seats. Yes, they looked old, worn, and a little dirty, and no they did not recline, but for $55 I couldn't complain. Plus, every other economy seat on the plane also had those attributes. I have yet to sit in the economy section of a Spirit Airlines flight, but this review from The Points Guy explains that the BIG Front Seat is worth the upgrade.
Refreshments
Spirit offers refreshments for purchase on their flights. These include the standard non-alcoholic beverages that are free on mainstream airlines. The menu offerings and prices look similar to what's available on mainstream airlines. Though $3 for a can of Coke seems expensive, knowing they have a monopoly in the sky Spirit could have charged $10 for that same can of Coke and people probably would have purchased it.
Being aware of this issue, my travel companion and I purchased sandwiches in the airport to bring on board with us. I also made sure to fill up my water bottle, since even water was not free on Spirit. My travel companion purchased one soda on the flight using his credit card. He was given the entire can plus a plastic cup with ice in which to pour his drink.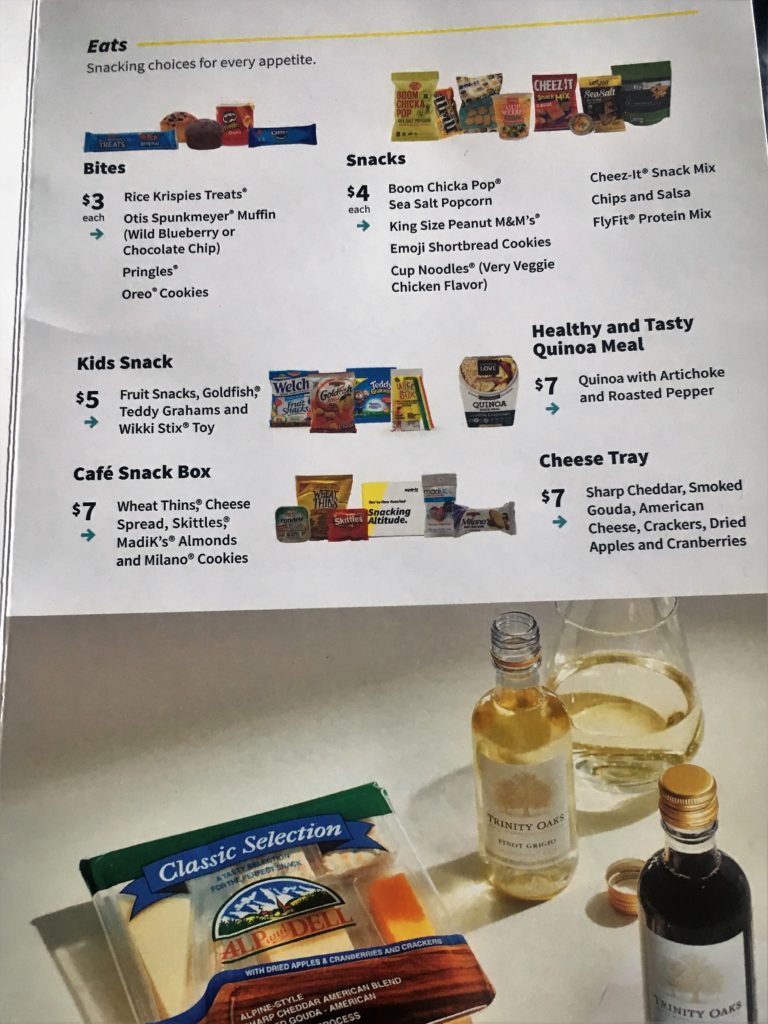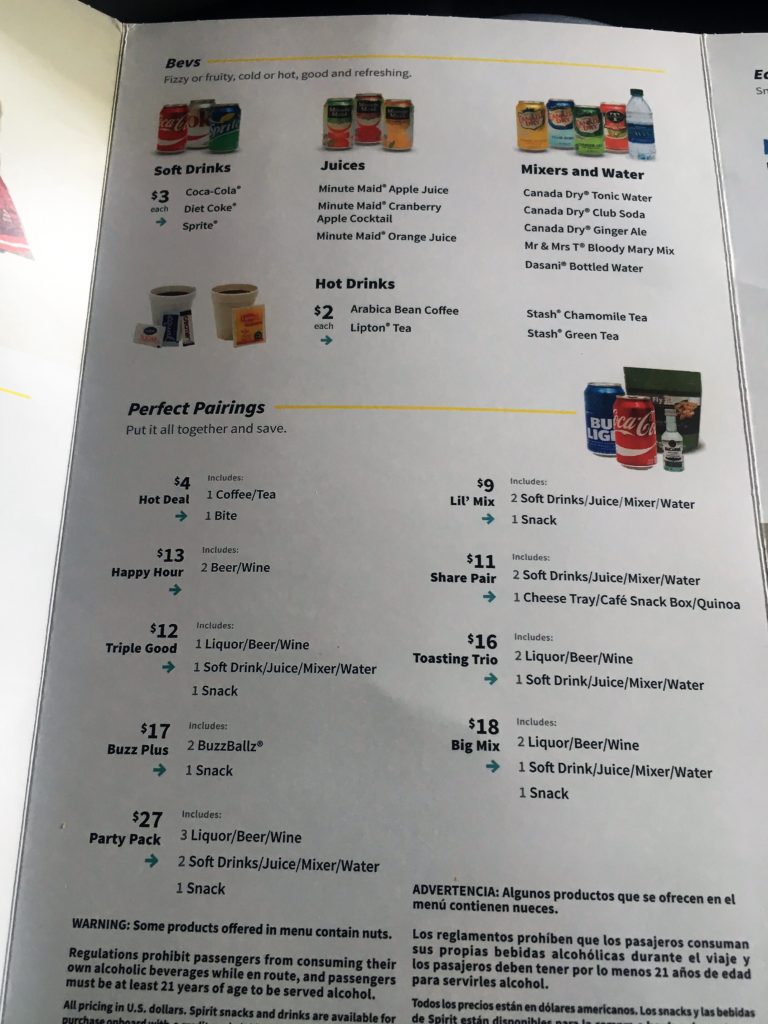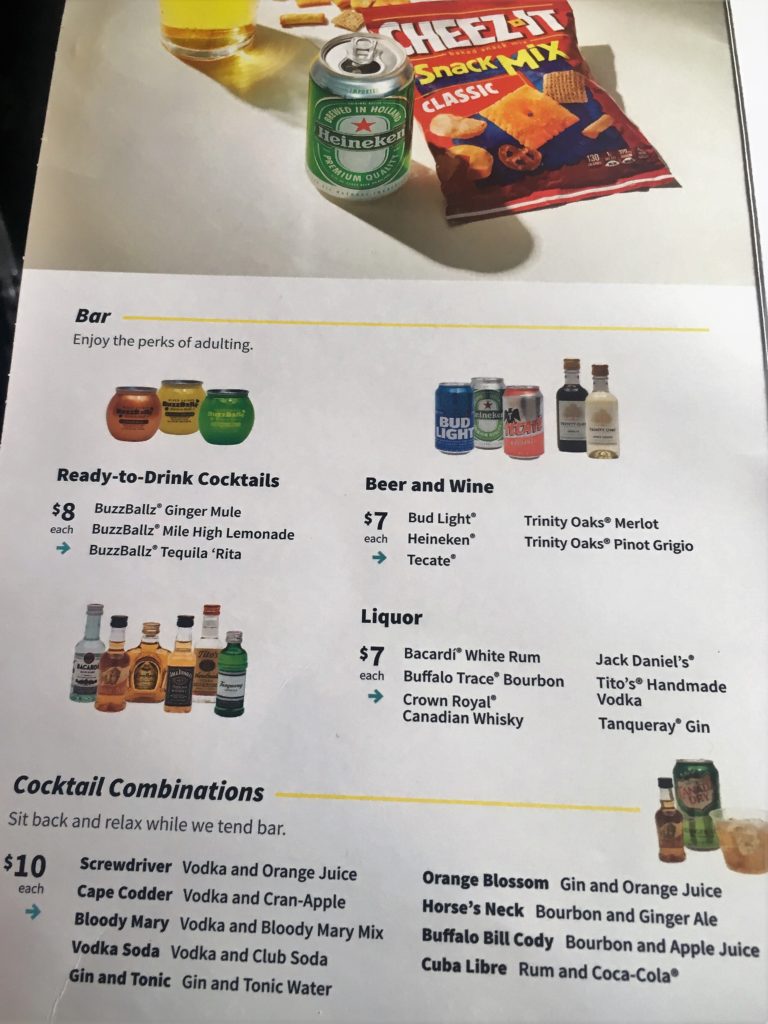 In-Flight Experience
As a "no-frills" airline, Spirit provides no in-flight entertainment. There are no seat-back multimedia screens. A flight tracker is not available. The flight attendant does not play a 20-year-old classic film for the entire plane using drop-down screens. There isn't even a ten-song rotation on an obscure airline radio station to plug in and listen to. It's how I imagine flying in the 1970s may have been.
This is not a problem so long as you are prepared for it. In my purse I brought my iPhone for music, my iPad for a offline games (both charged ahead of time, since there are no in-seat charging ports on Spirit's flights), an eBook on my iPad and a hardcover book. I also had my Harry Potter coloring book and set of 50 colored pencils in case the plane hit bad turbulence and I needed a distraction. I was determined to keep myself occupied on the flight. It turned out not to be an issue because I fell asleep within a half hour of take-off and awoke as we were making our descent. Had that not happened, I am sure all the items I brought with me for entertainment would have kept me busy for hours, or at least the three hour duration of the flight.
Looking for more must-have travel items? Check out my post on 15 Luxury Travel Essentials!
Baggage Claim
Baggage claim was the worst part of my Spirit Airlines experience. I never check bags, so I don't usually have to deal with baggage claim. I did not know what to expect for timing of retrieving our bag. Because of its low airport "rental" fees, there are only two Spirit baggage claim carousels at Orlando International Airport. Bags from all of the incoming Spirit flights arrive on the same two carousels. You never know when the new set of bags is from your flight.
It took over an hour from the time my travel companion and I left the aircraft to the time we retrieved our bag. To me, that was an unreasonable amount of time. When time is money, you should compare the cost-savings of checking a bag with the time-cost of standing in an airport's baggage claim area. It may not be worth it.
Our bag arrived with our flight and everything was in one piece, so it could have been worse. It was not the best start to the vacation, though, and something that could have easily been avoided with a carry-on.
Spirit Airlines Review Conclusion
I was not deterred by the minor hiccups during my first Spirit Airlines experience. As I normally do, I signed up for a frequent flyer number with Spirit. I intend to fly them again soon. I will be testing the personal item versus carry-on strategy and hopefully will not have to pay $100 at the gate to bring my bag with me! Regardless I don't think I would check a bag again. So long as you know what you are getting into, are aware of the rules that could cost you extra money, and are willing to pay for all extras, flying Spirit Airlines is a great deal.
Like this post? Save it to Pinterest for later!