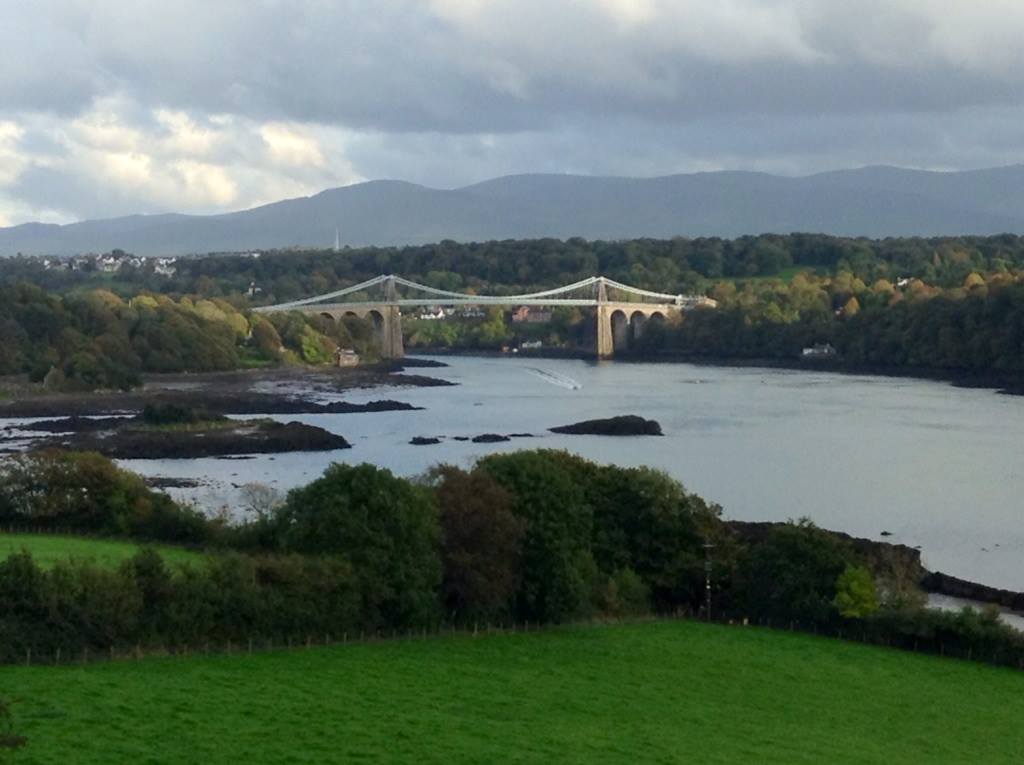 A few years ago I spent a weekend visiting extended family in Wales.  At that time I wrote about it in my private blog. Now that I want to share the experience with everyone, I realize this is best done with the memories I had immediately after the trip. Below, I've updated my original private blog post from 2013 about spending a weekend in Wales.
A Weekend in Wales, 2013
My great-grandparents, Margaret and Edward Roberts, emigrated from Bethesda, Wales, to Chicago in the early 1900s. Most of their siblings stayed behind in Wales, so I have many second-, third-, and fourth-cousins still living there. The town of Bethesda, where my great-, great-great, and great-great-great-grandparents lived, has a population of 4,000. There is just one high street and a few neighborhoods branching off of it. When the slate mines in the area were booming in the 1800s, it was an extremely important town. In recent years its population and importance has declined. Regardless, I still think it is still the cutest village in the northwest corner of Wales. It was while based in this town that I visited the area my ancestors are from and met many relatives for the first or second time.
Bethesda
Heulwen, my second cousin, and her husband Emyr picked me up from the train station in Bangor and brought me home Thursday evening. I arrived just in time to enjoy tea and delicious homemade cake as we discussed the plans for the weekend. Heulwen also explained my relationship to the people I would meet.
Heulwen had made a wonderful homemade steak and ale pie to have after tea for dinner. After we ate it, she told us that she realized while making it that there wasn't any ale in the house: it was really just a steak pie! It still gave us energy for an evening walk along Bethesda's High Street afterwards. During our walk, Heulwen pointed out buildings of significance to our family. For example, the current grocery store used to be a bus station that was owned and run by my great-grandfather. There were many apartments that my ancestors had lived in or been born in decades ago as well.
At the end of the road was a pub called the Douglas Arms. The same family had owned the pub for 3 generations. We arrived around 9 PM and the owner opened the pub for us to have a drink. It was the first time I had a pub open just for me! We entered through the foyer and went into the pub room, which really felt like someone's living room. In fact, at one time it was a living room. The building was originally a house and the bottom floor was converted into a pub without rearranging the rooms.
Eventually other local customers arrived and the room filled up. As is typical in small towns, everyone else there knew each other, so they immediately recognized that I was the foreigner in the room. The locals were interested to talk to me about the USA and share their stories if they had traveled overseas themselves.
Snowdonia
The next day Heulwen drove me through Snowdonia, the mountainous region near Bethesda. She told me that every year hikers go into the mountains without the proper equipment, such as maps, compasses, and GPS, and then have to call the rescue service to be saved. This is the same rescue service that Prince William was a member of until 2013. Therefore, people in the area thought that some hikers only called to see if Prince William would come rescue them. Perhaps the number of "lost and stranded" hikers decreased once he left the rescue team!
Betws-y-Coed
On our road trip we stopped at many beautiful towns, including Betws-y-Coed, Bae Colwyn, Rhos-on-Sea, and Llandudno. In Betws-y-Coed we spent some time shopping for typical Welsh souvenirs and had a look at the Royal Oak Hotel.
Betws-y-Coed is situated on the A5 expressway. This was the main road used by coaches bringing mail from Dublin to London. The ferry ride from Dublin to the Isle of Anglesey was only about an hour, after which coaches would proceed through the heart of Northern Wales. The Royal Oak Hotel is a grand hotel along the path that many coaches traveling between the two cities would stop at for the night.
Bae Colwyn
In Bae Colwyn, Heulwen and I had lunch with my third-cousins Karen. We went to lunch with her specifically because my mom and she were pen-pals when they were children. Unknown to Heulwen, Karen and my mom actually met in Chicago, where my mom grew up, when Karen was 3-years-old. It was nice to spend time with her knowing more about our family connection.
Seaside Rhos and Llandudno
Rhos-on-Sea and Llandudno are both gorgeous seaside towns. Rhos-on-Sea has huge beaches that stretch for miles along the coast and extend many meters before meeting the water. It was a bit cold on the day we visited, but the town looked like it would be a fantastic place to vacation and spend a few days in the summer.
Llandudno is one of the more upscale towns in the area. It has a boardwalk with a few grand hotels and restaurants along it. A large town sitting on the side of a mountain overlooks the beach area, and an open-air tram ascends the mountain year-round. Because the weather was brisk, we drove to the top of the mountain to have a view of the town and surrounding area instead of taking the tram.
The areas of Wales Heulwen took me to on Friday were beautiful. They gave me a good sense of the diversity of landscape in the country with the huge mountains and the spacious beaches located so close to each other.
Bangor
Friday night, two of my third-cousins took me out for a night on the town in Bangor! Alice and Sioned were  gracious hosts allowing me to unexpectedly join Alice's birthday party. They brought me to three bars in town and then a club to show me proper Welsh nightlife. It was similar to nightlife in any other European city with a few exceptions:
Popular locations allowed in large groups of just men, without any women with them. There are very few places in other cities that would permit this, especially with a cover fee.
The men all had haircuts like American military men, though most of them weren't actually in the military.
Many people I met were obsessed with the fact that I was American. There are a few pictures of me out there I will never see again from people who needed a photo with the American in town.
Just as everyone knows each other in Bethesda, we ran into a large number of people my cousins knew at the bars and in the streets walking around. I had to cut the night short to go home while everyone else stayed out dancing since there was a busy day planned for Saturday. Regardless, I had an incredible time and am so thankful to Heulwen for contacting Alice and Sioned to set this up, and for them taking me along for the night.
Isle of Anglesey
Saturday morning Heulwen and I set out on another sight-seeing adventure, this time to Caernarfon. This was the town in which many of my American family members stayed in during our 2010 family reunion. It is on the water near the Isle of Anglesey and has one of the most well-preserved castles and walled cities from the 1200s that I have seen. The English built the castle to oppress the Welsh, so it's not a great source of pride, but it still adds a lot of charm to the town.
Heulwen's daughter Hannah met us at the hotel in town for lunch and coffee. After lunch, we all went to Llanfairpwllgwyngyllgogerychwyrndrobwllllantysiliogogogoch, the town with the longest name in the world. It means "St. Mary's Church in the Hollow of the White Hazel near to the Rapid Whirlpool of Llantysilio of the Red Cave." This town became notorious for its name length and specificity. It is also the first town you reach on the Isle of Anglesey when arriving from the mainland.
That afternoon we all visited Hannah's older sister Ceri at her house to have tea with her and her two young daughters, one of whom had just been born. I had heard all weekend from Heulwen and Emyr about how smart the older daughter, Erin, is, and they were completely right. For example, the first language of most people in Wales, including my family, is Welsh. Erin, who is three-years-old, speaks Welsh, but is also starting to learn English. This normally doesn't happen until age four or five when children start school. Erin was mostly able to understand me and to respond using simple words. Most people I know can't speak two languages, and certainly not by age three.
Family Dinner
After spending most of the weekend with my great-grandmother's side of the family, I went out to dinner on Saturday night with about 20 relatives from my great-grandfather's side of the family. They were all also from Bethesda. Years ago, one of them researched his family history, then walked down the road to Heulwen's house with some paperwork and announced that they were related.
Most of my relatives from my great-grandfather's side of the family had been at the family reunion I attended in Chicago in 2002, so I had briefly met them and vaguely remembered them. They were all excited to see me and to tell me about their lives, as well as hear about how all the American relatives were doing. I hope I sufficiently updated everyone because we only see each other about once every five years. It was difficult to adequately describe who each person was that I was talking about, seeing as I have five aunts and six cousins in Chicago, plus their families, plus a number of second cousins who the Welsh relatives know.
Spending the weekend with my family and meeting them all for either the first or second time made for a fantastic relaxing weekend and was special for me. I enjoyed extending my known family tree. Every person I met was really friendly and welcoming. Although we are distant relatives, I am still glad to be a part of their family. Heulwen and Emyr were fantastic hosts making sure that I was comfortable, well taken-care of, well-fed, and that I got to see everything and everyone that I wanted to without making the weekend seem busy or rushed. I hope to return and to see everyone again soon!
If you're interested in visiting this area of Wales, I recommend staying at the hotel in Caernarfon where my family stayed for their reunion: The Celtic Royal Hotel. By using this link I receive compensation at no additional cost to you.
Love this post? Save it to Pinterest for later!