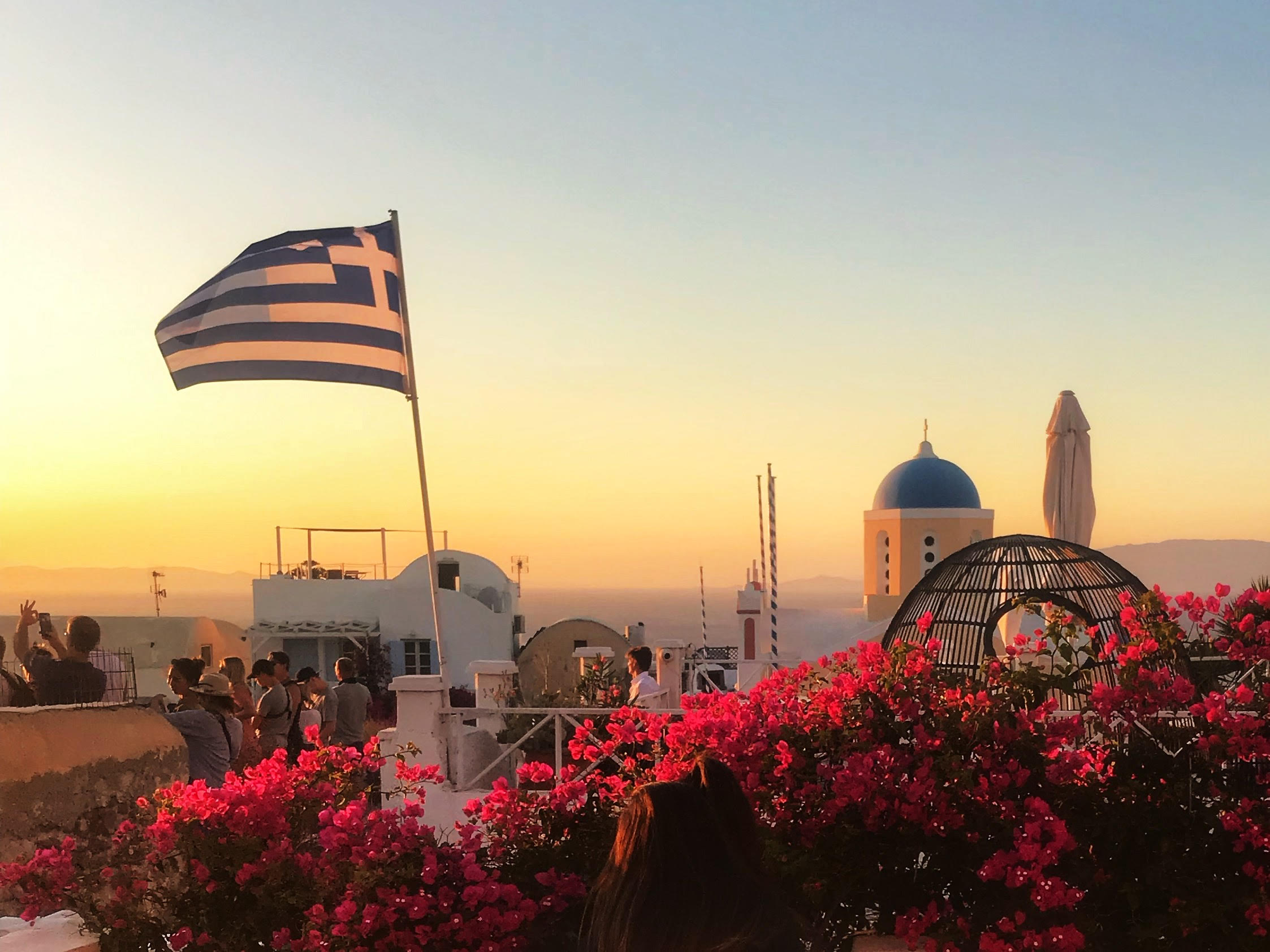 The Greek Island of Santorini is best known for its gorgeous sunsets. Just before the sun goes down every evening, the entire island ventures out to find a viewing location. When you visit the island, make sure you take the time to plan where to watch your Santorini sunset.
There are myriad towns along Santorini's cliffs that provide a beautiful view of the sunset. However, everyone visiting the island tends to flock to Oia for the sunset. Forego the crowds and head to one of the locations below for an incredible Santorini sunset experience.
Santo Winery: Dinner and a Santorini Sunset View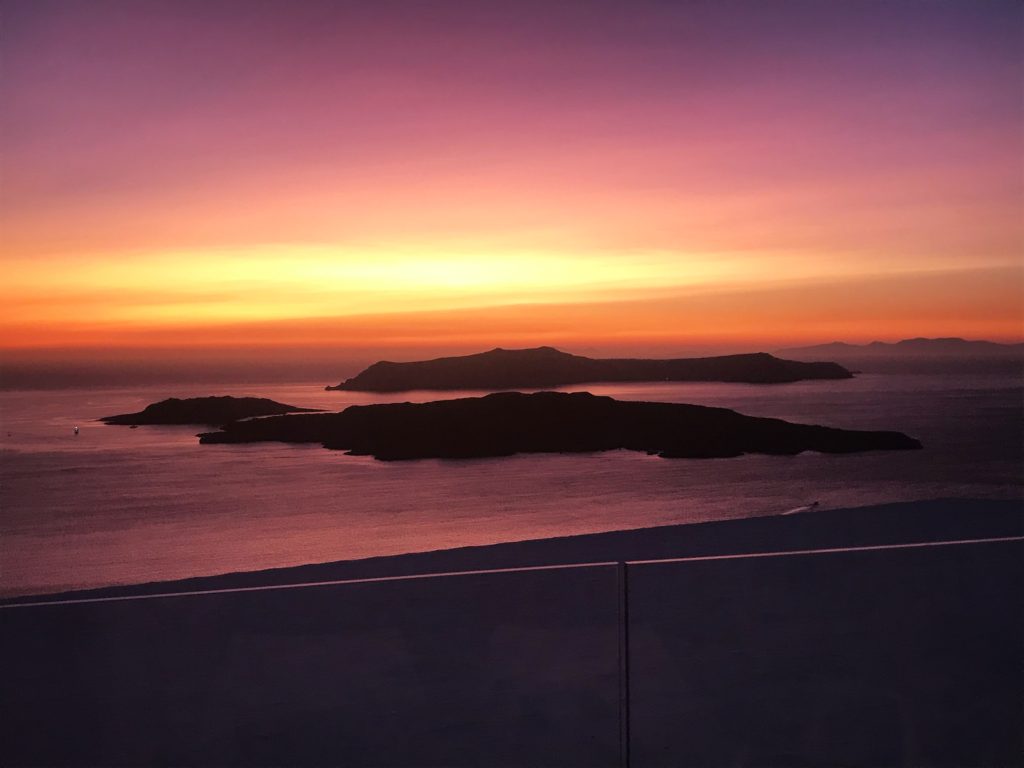 The most beautiful Santorini sunset experience I ever had was at Santo Winery. I arrived a half-hour before sunset and secured a table on the lower terrace flanked by Santorini's infamous white concrete. Everyone around me was enjoying delicious-looking dinners of fresh-caught fish and homemade pasta. My travel companion and I ordered the sixteen-glass wine tasting experience so we wouldn't miss a single flavor the winery had to offer. A jazz pianist accompanied by a live vocalist who sang smooth lounge music all evening, adding the perfect touch to the winery's environment.
As the night went on, the winery's guests prepared to watch the sun go down together. Santo Winery's location midway down Santorini's coastline makes it the best place from which to view a Santorini sunset. The elegant, relaxed atmosphere significantly enhances the experience.  If you make no other plans before arriving in Santorini, you should make a dinner reservation at Santo Winery about thirty minutes before sunset so that you too can have this magical experience.
Sailing on a Sunset Cruise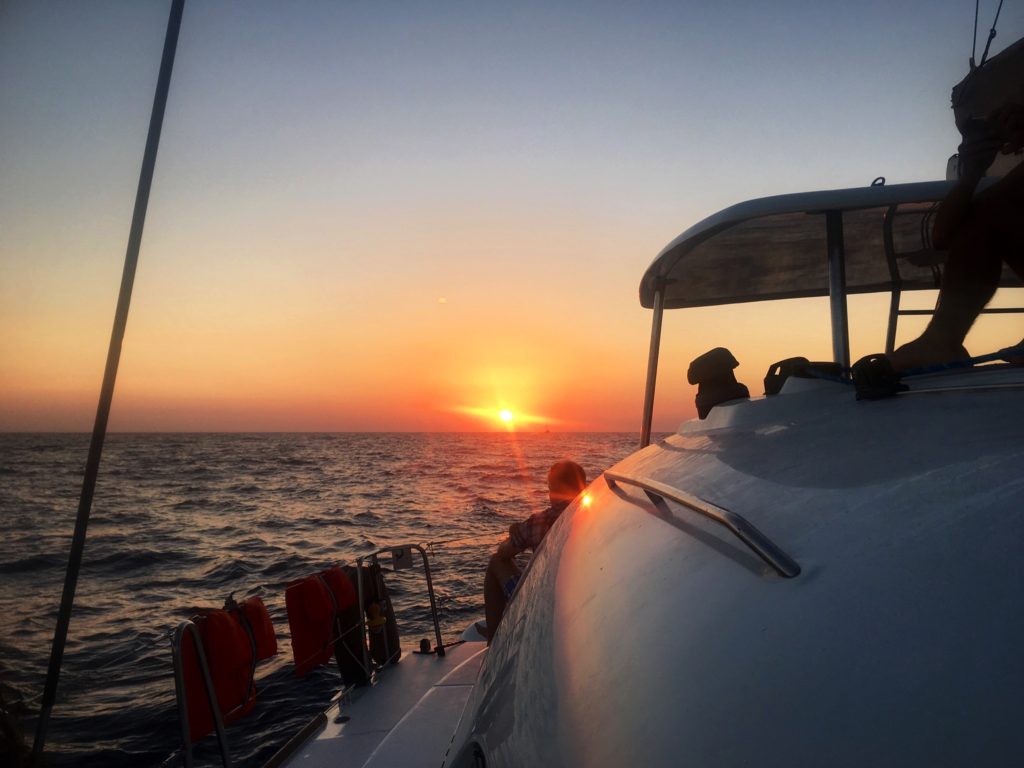 There is nothing quite like a catamaran cruise around Santorini's caldera. Many cruises are available each day. For a unique view of Santorini's sunset select an afternoon cruise that includes a sunset from the water.
The cruise itself could include a hike on Santorini's volcano, a swim in the volcano's hot springs, a stop at the nearby island of Thirisia, or dinner and drinks provided onboard. All of these options will enhance your experience, but the best part of a Santorini cruise is the unrestricted view of the sunset while sailing on the water.
Santorini Sunset Down by the Water in Ammoudi Bay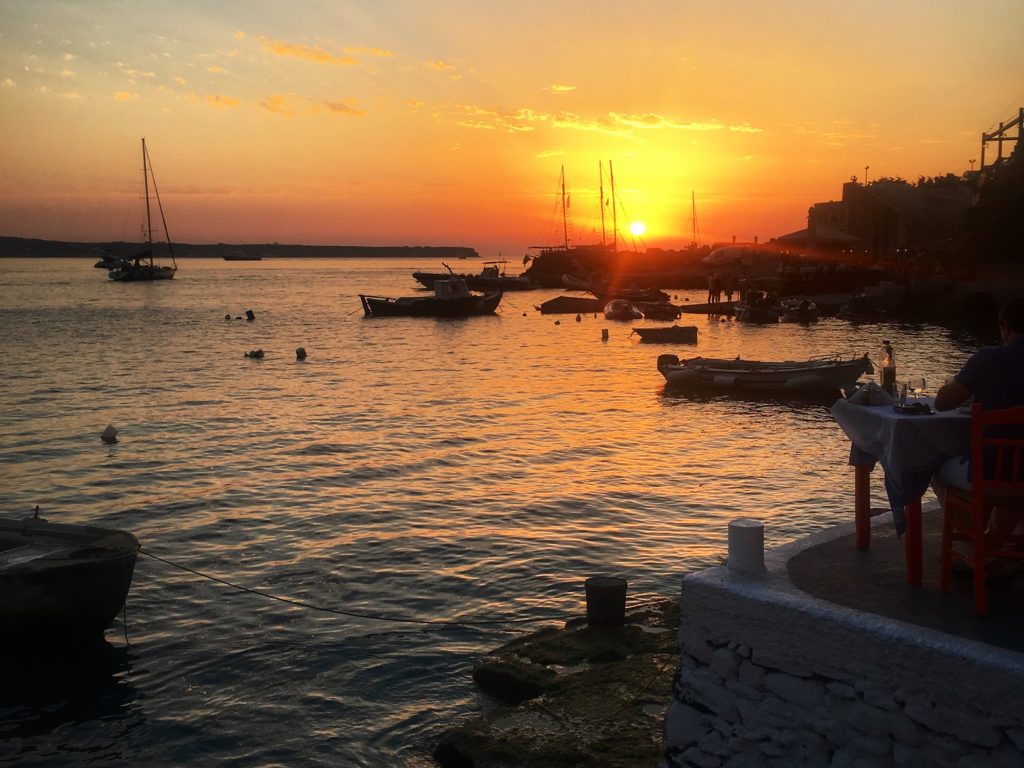 The town of Ammoudi Bay sits directly below Oia. You can reach it from by boat or taxi, or walk down the winding path from Oia. Viewing Santorini's sunset from Ammoudi Bay gives you an unobstructed view of the sun setting over the water from Santorini's northernmost point without having to fight through Oia's crowds.  You could sit on the docks to take in the view or grab a table at one of the seaside restaurants. If you choose the restaurant you will enjoy the sunset along with a freshly-caught fish, homemade baklava, and a sip of ouzo.
An Oia Sunset without the Crowds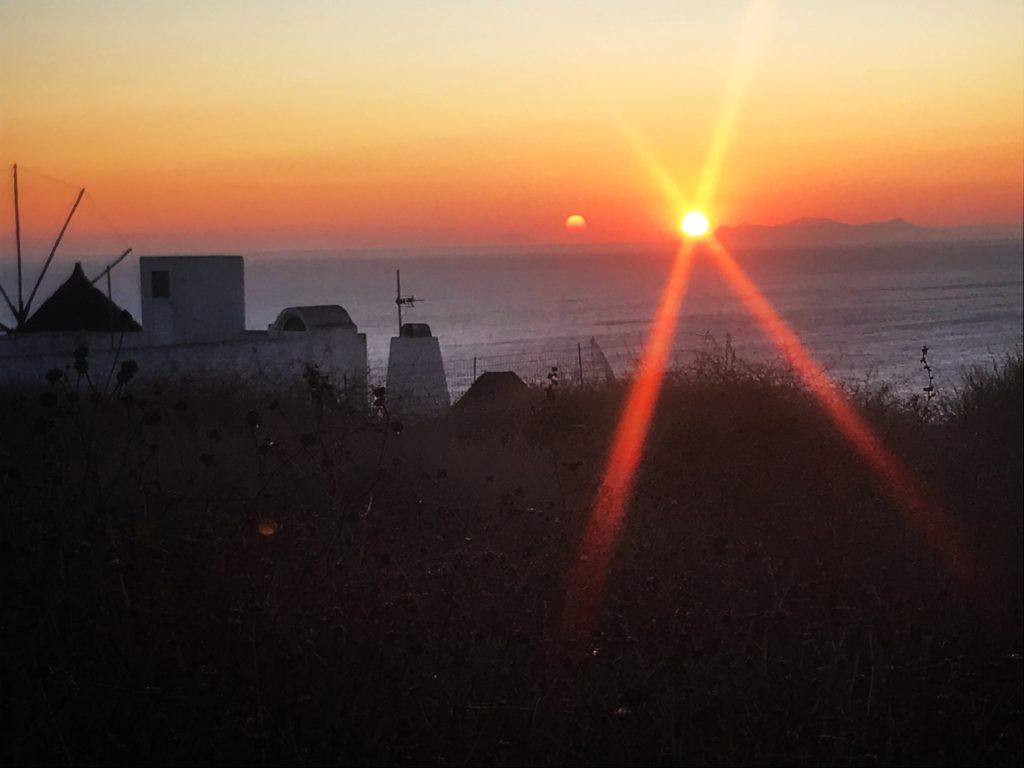 Admittedly, you cannot leave Santorini without seeing the sunset from Oia. On my last trip to Santorini, I made the mistake of thinking you could arrive in town shortly before sunset, easily stroll over to any spot overlooking the caldera, and peacefully watch the sunset. I even thought I could grab a seat for dinner as a walk-in! I was incorrect in all these assumptions.
It seems like at least half the island is in Oia for the sunset each night. Tourists pack the streets making it difficult to get anywhere. Restaurants fill up with reservations made weeks in advance. Once you find a spot to stand, you'll be jostled by passersby. Ultimately, you may not have the unrestricted view you were anticipating.
To avoid these problems make a dinner reservation in advance. The sunsets from Oia are breathtaking, and with a dinner reservation, you'll enjoy this experience peacefully. Just remember to arrive in town early so you can arrive at your chosen restaurant stress-free!
All Santorini sunsets are stunning. Wherever you are when the sun goes down over the caldera, you will have a magnificent view. If you are able to make it to one of the best places to view the Santorini sunset your experience will only improve!
Love this article? Save it on Pinterest for later!