When you think of things to do in Amsterdam, the stereotypical Red-Light District and pot-filled coffee houses may come to mind. However, there are dozens of things to do in Amsterdam that have nothing to do with either of these activities! Amsterdam is a multi-cultural city with a rich history that will appeal to many travelers. Whether you are interested in museums, food, shopping, culture, or spending time outside, you will find something to enjoy in the Netherlands' capital city. I went to Amsterdam for the second time about a month ago: here are the top 20 best things to do in Amsterdam that I discovered during my visits.
Best Amsterdam Museums
If you want to visit Amsterdam's museums, purchase the I amsterdam City Card. Before visiting the city I researched the card and decided against buying it. However, once I was in The Netherlands, I realized I would save money with the 48 Hour I amsterdam pass. The card allowed me to visit museums I may have otherwise skipped because they were essentially free. You can purchase the card online or at the Rijksmuseum store once you are in the city. All of the museums recommended below, and many more, are included with the I amsterdam City Card.
1.   Rijksmuseum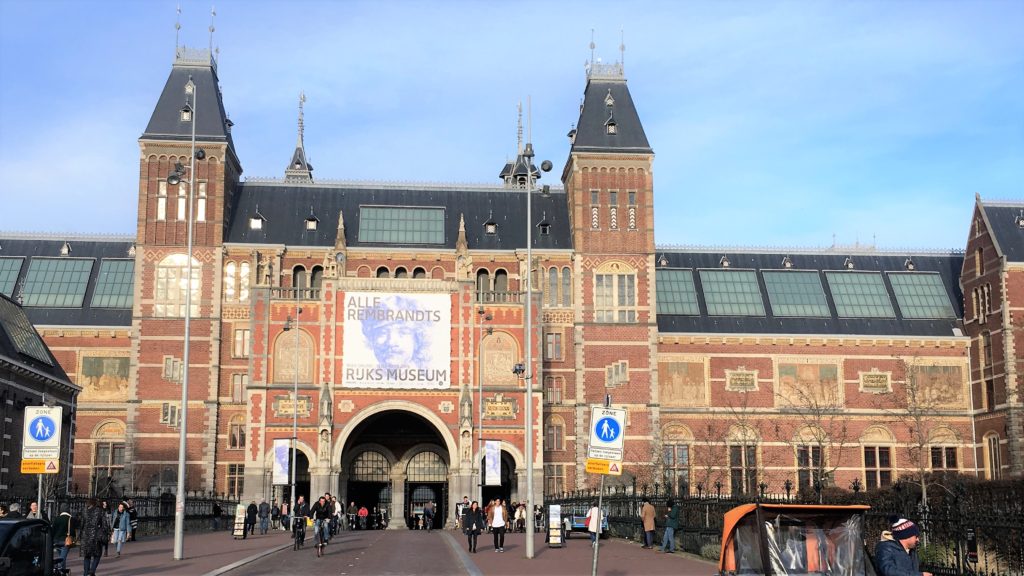 The Rijksmuseum is the most famous museum in Amsterdam. Its collection stretches a millennium from 1000 AD to the current era. Its most famous painting is Rembrandt's "The Night's Watch," and it maintains the largest collection of Rembrandt paintings in the world.
Some of the best things about the Rijksmuseum are the guides provided for the most famous pieces. They describe the background of each painting and help visitors appreciate details that may otherwise be passed over. For example, I learned "The Night's Watch" was named such centuries after it was painted because the canvas had become dirty, making it look as though Rembrandt intended to paint men gathering in the middle of the night. After restoration, it was clear that daylight shone through a window in the painting, but the name stuck.
2.   Oude Kerk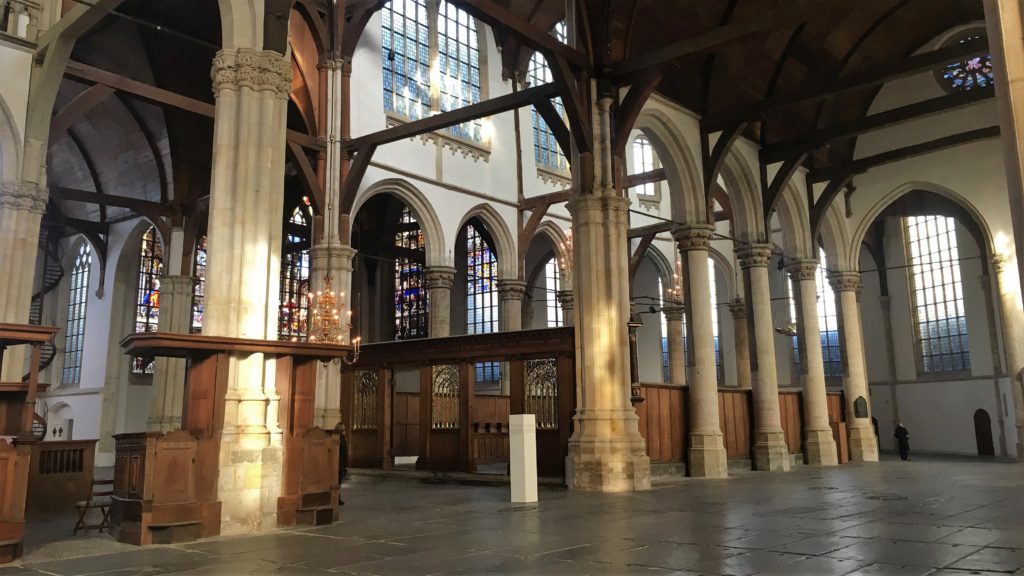 The oldest building in Amsterdam is Oude Kerk or Old Church. Built in 1390, Oude Kerk sits on a canal in the Puritan Quarter of De Wallen, which is the Red-Light District. Ironic, right? While the church certainly stands out in the area, its structure is less imposing from the outside as you would expect from its size. I easily missed it the first time I walked by.
Stepping into the Oude Kerk's interior took my breath away. I was completely in awe. This is far from the first European church I've visited, but its vast space was nothing like I'd seen before. Not only is the interior large but it is almost completely empty. The center does not have pews, just a few chairs behind a wall facing a pulpit. There is a small music room off to the side with a piano available for playing that fills the entire space. Even if you've seen your fill of European churches, Oude Kerk is not to be missed.
3. Rembrandthuis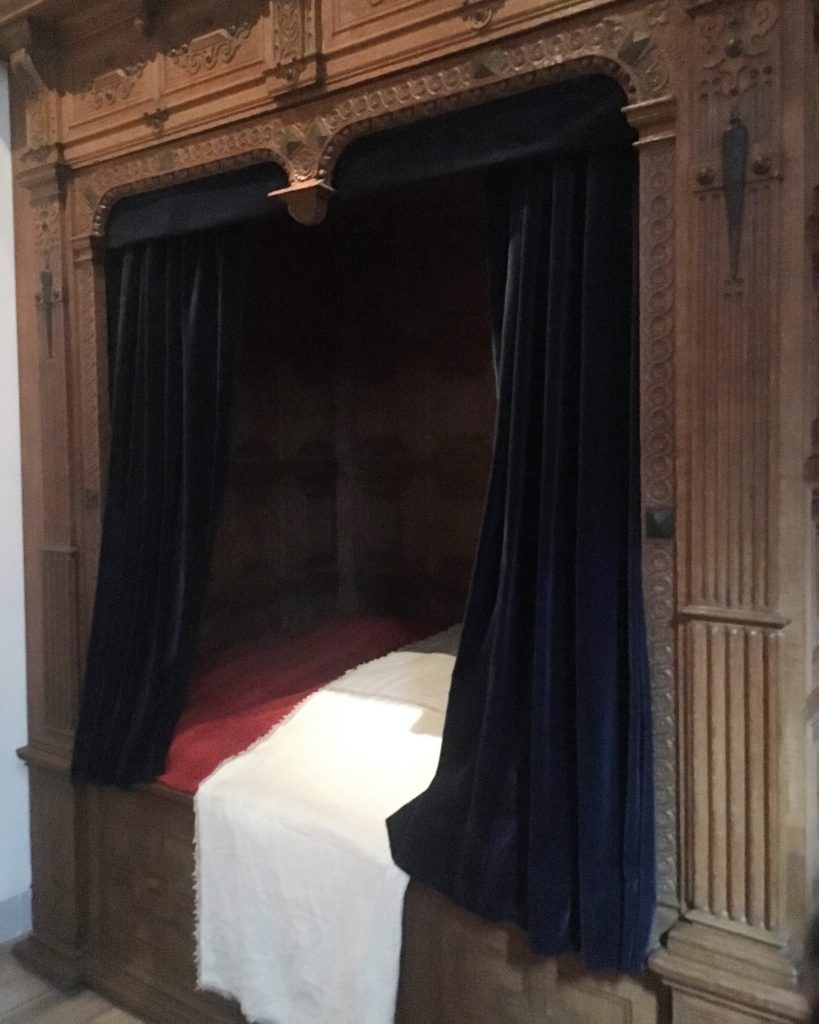 Rembrandt was once a wealthy inhabitant of Amsterdam's city center. He had a multi-story house sitting on one of the canals that he lived in and used as a painting studio. Unfortunately, he went bankrupt and all of his things were sold to pay off his creditors. Visitors to Amsterdam can visit Rembrandt's house to learn how he lived and see his living quarters, but most of the things in the house are replicas of items he may have owned, as his real items are lost to history.
4. Van Gogh Museum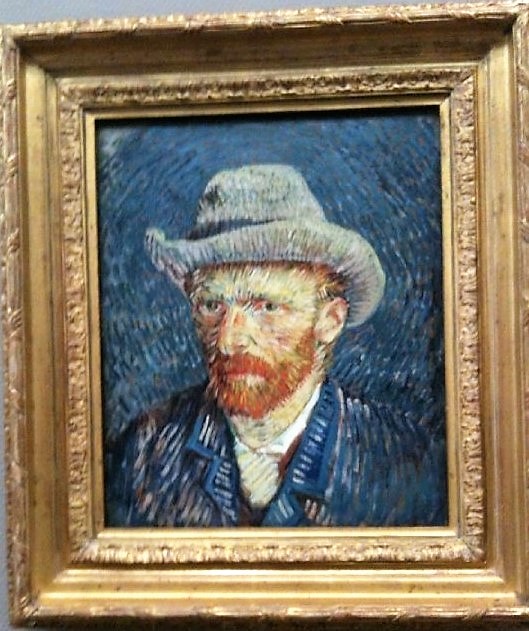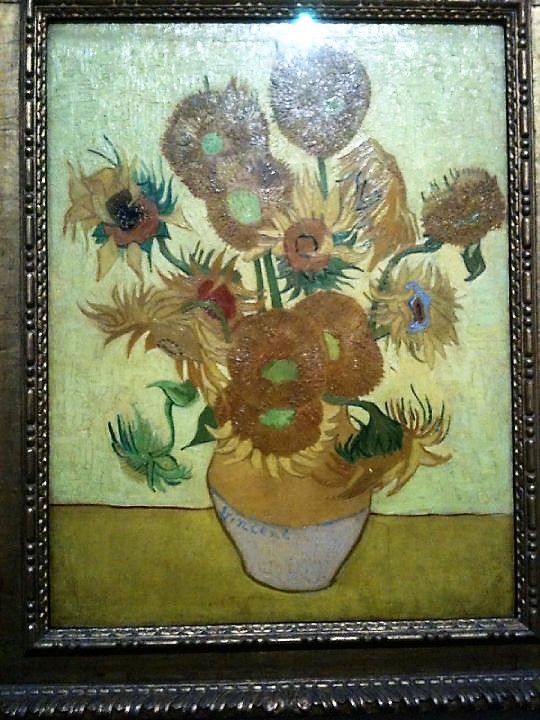 Van Gogh is another famous Dutch artist whose work is featured in Amsterdam. Visit the Van Gogh Museum to see his famous "Sunflowers" still life and his self-portrait, both painted in the late 1800s when he lived in the South of France. Though you may have seen recreations of these and other Van Gogh paintings before, viewing them in person in the museum brings them to life. Visitors can see how much the colors he used pop off the canvas and can study the details in the paintings that you can't see in a photo or recreation.
5. Resistance Museum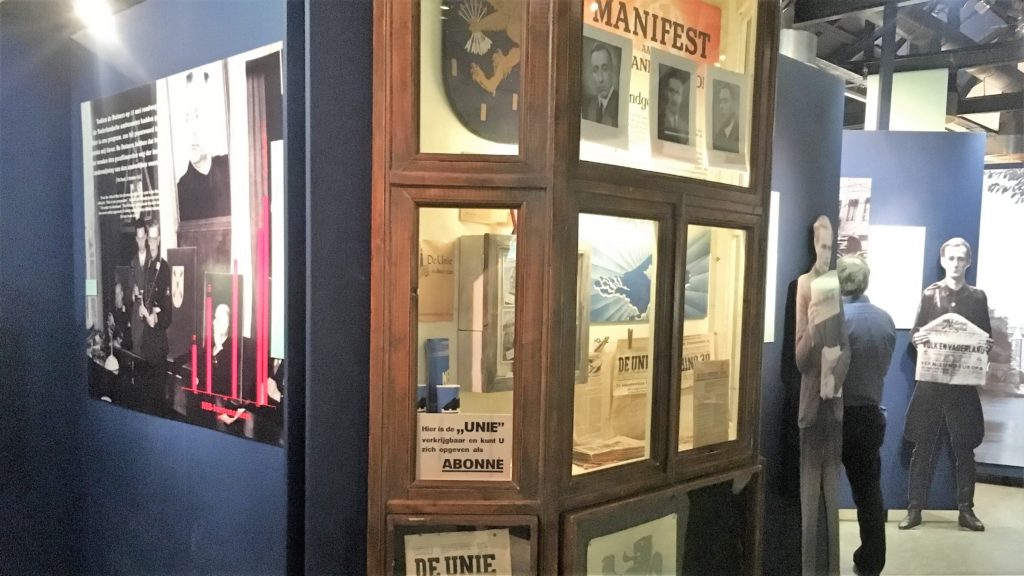 The story of World War II for The Netherlands is much different from that of many other European countries. In May 1940 the Nazis leveled Rotterdam in a bombing campaign. They threatened to do the same to Amsterdam and other Dutch cities. As a result, Dutch Queen Wilhelmina surrendered to prevent additional destruction and loss of life and fled to the UK. The Nazis invaded and took over the country.
The Resistance Museum tells stories of various Dutch citizens during the war. It describes how the Nazis initially treated most of the Dutch well because of their shared Germanic roots. The museum includes stories of Dutch citizens who thought Nazi rule was the new normal and joined their ranks, citizens who tried to mind their own business during this time, and citizens who supported the underground resistance efforts. The matter-of-fact inclusion of all these stories provides an in-depth look at life in The Netherlands during World War II.
6. Tulip Museum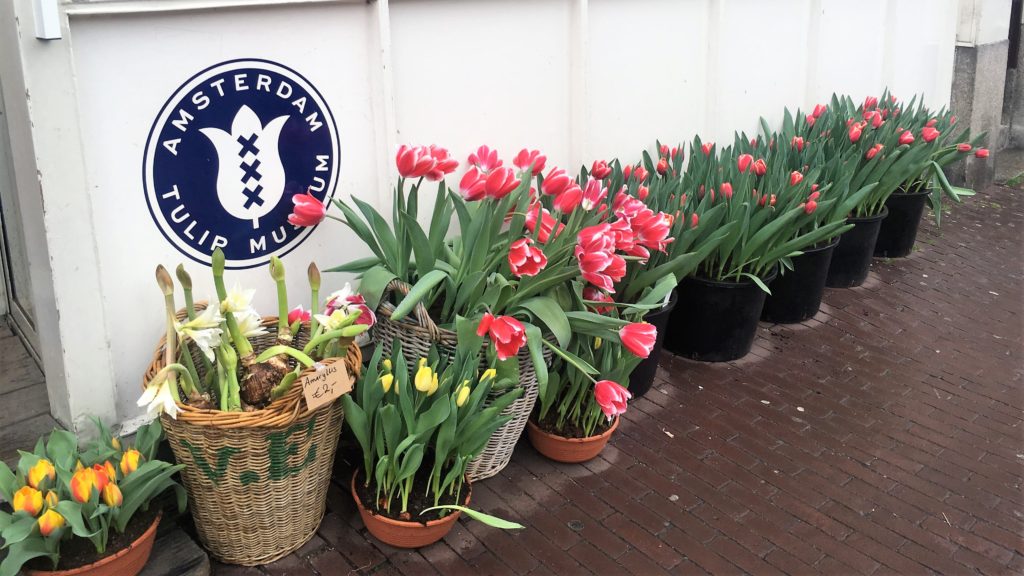 A visit to The Netherlands wouldn't be complete without learning about its famed flower, the tulip! Admittedly this is a museum I wouldn't have visited if I had to pay for it separately. I'm glad it was included in the I amsterdam City Card because it was fascinating to learn about the history of the tulip.
Did you know tulips are natively from Central Asia? Tulips were brought to The Netherlands by travelers from the Ottoman Empire. It was considered a flower of royalty because of its rarity. Tulip Mania in the 1600s caused tulip bulb prices to skyrocket. Unfortunately, tulip bulbs multiply themselves underground during the winter to create many more tulips. This quickly decreased their rarity and caused the tulip speculation bubble to burst. I never would have learned any of this without a visit to Amsterdam's Tulip Museum!
7. Our Lord in the Attic Museum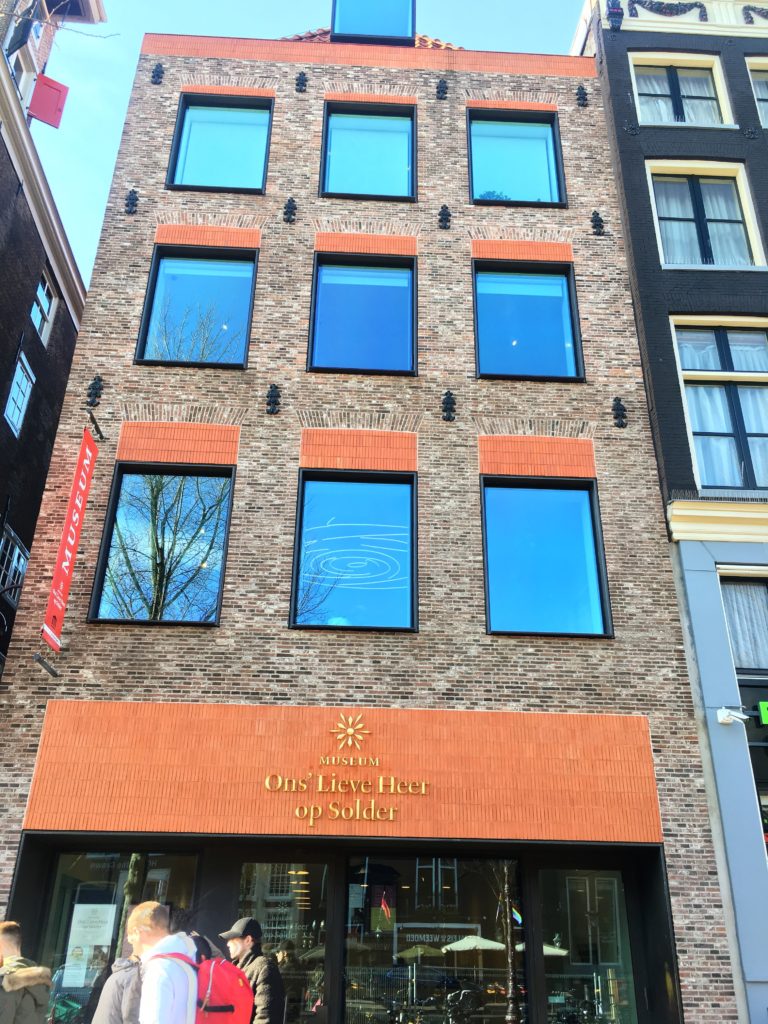 The Netherlands is considered a country of tolerance and diversity since its founding in the 1500s. At that time the Dutch proclaimed the principle of freedom of belief. A fantastic principle in theory, in practice the Dutch said "you are free to believe what you want. However, we support Protestant Christianity, so if you'd like to believe anything else, please hide it from public sight." Catholics were specifically targeted because the Catholic Spanish that had colonized The Netherlands had just been kicked out of the country.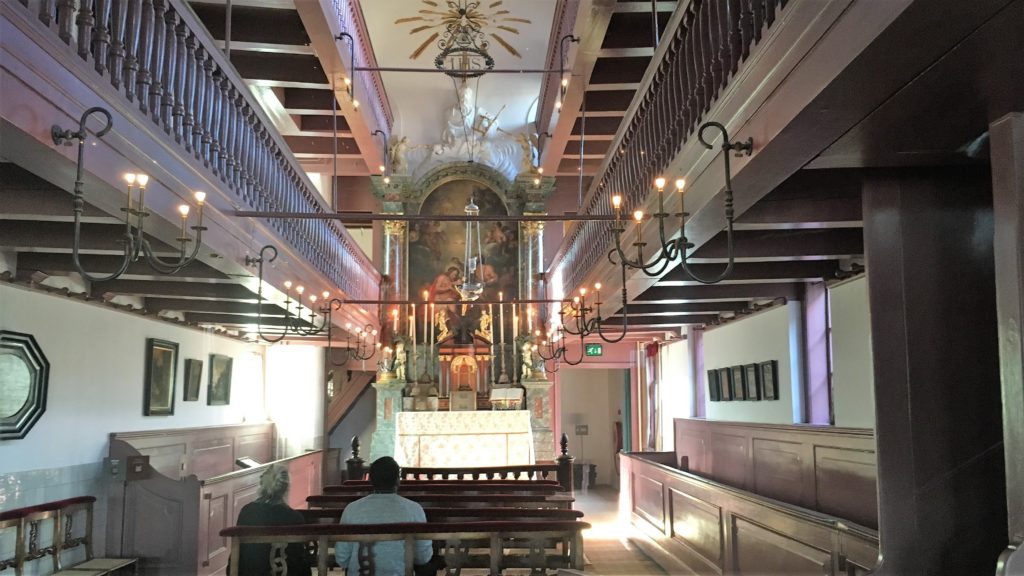 This intolerance led to the creation of churches in the attics of otherwise residential-looking buildings. Our Lord in the Attic Museum is one such church. When you visit, you can see how the residents lived on the first two floors and then enter the church on the third level. The top three levels were cut away to create balconies highlighting the altar and two-story organ in the back of the church. This museum is worth a visit for its unique disposition and place in Dutch history.
Top Outdoor Activities in Amsterdam
Regardless when you visit Amsterdam, plan on spending some time outside. In typical European fashion, al fresco dining is available year-round. Many of the best areas to explore are outside.
8. Canal Cruise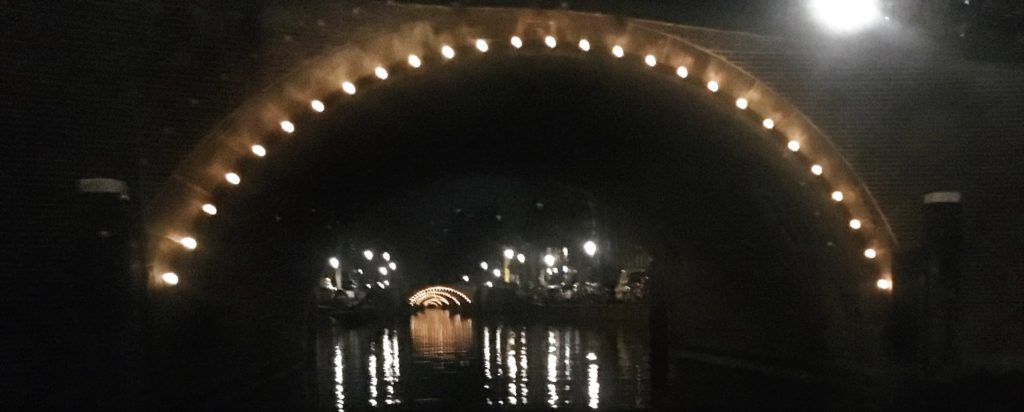 You cannot visit Amsterdam without seeing its canals! Amsterdam is one of seven cities known as the Venice of the North due to its many canals. The best way to experience the canals is from the water itself. Canal cruises are available near the Centraal Station and the Rijksmuseum starting at 10 euros. A canal cruise is also included in your I amsterdam City Card for free! You can choose to spend an hour learning about the history of the city and the canals as your boat meanders through the watery paths around the city, or upgrade your experience with a wine and cheese cruise. I recommend an evening or sunset cruise as the water is even more beautiful with all the city lights reflecting on it.
9. A'DAM Tower
The A'DAM Tower is a new attraction situated across the harbor from the Centraal Station. You can reach it using the free ferry that crosses the harbor every five minutes. The tower itself is a mecca of art and science innovation with many start-ups using office space throughout the building. The top two floors of A'DAM Tower are accessible to visitors. You can eat lunch or dinner in the tower's dining room while enjoying the views of Amsterdam, or check out one of the rooftop bars. There is one inside the second floor from the top and one actually on the roof. If you are daring, you can take the opportunity to ride on an outdoor swing that sends you over the edge of the tower above the harbor! Whichever option you choose, make sure you spend some time walking around the rooftop for the best views of the city.
10. Dam Square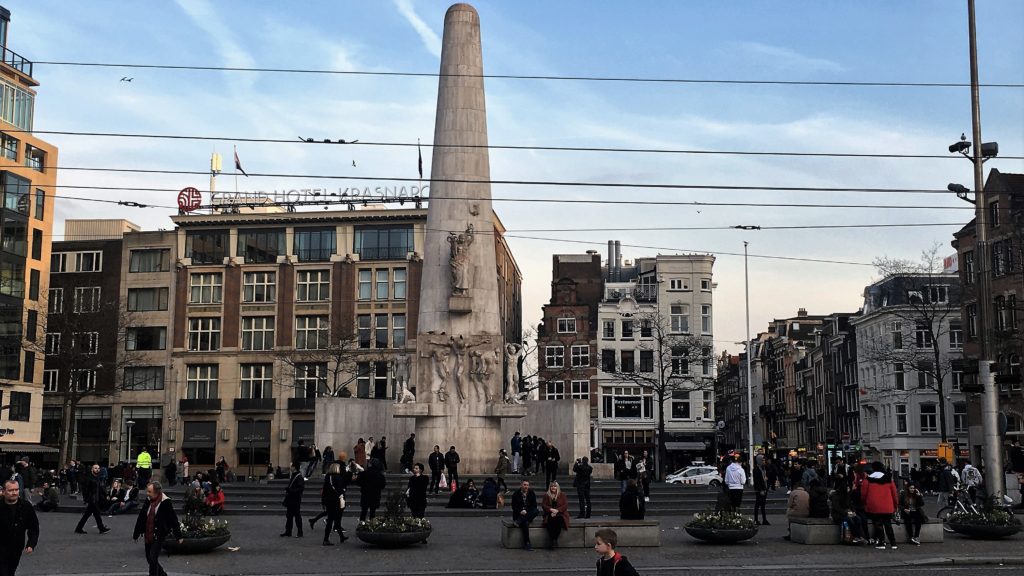 A visit to Amsterdam would not be complete without a walk through Dam Square. This is where you will find Dutch residents relaxing together and tourists watching the street performers pretending to be statues and making giant bubbles.
11. Vondelpark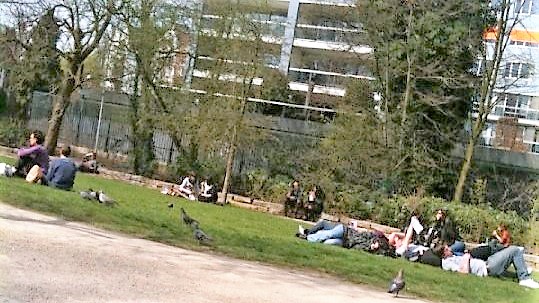 Vondelpark is located outside the canal rings in the Western part of the city. At 120 acres you could spend an entire day getting lost in this park! I especially loved taking morning runs through the park during my first visit to Amsterdam. As you wander through Vondelpark's tree-lined pedestrian routes you forget that you are in a city where buildings are built almost on top of one another. If you want to escape the city and spend some time in nature during your visit to Amsterdam, head for Vondelpark.
12. Red-Light District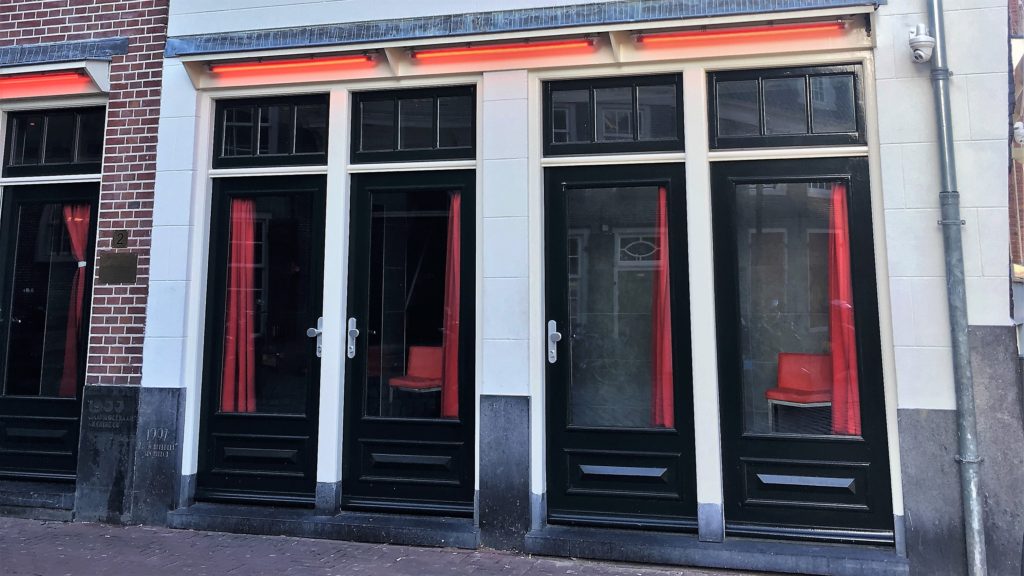 You may be intrigued by stories of the Red-Light District and want to see the area for yourself. You may instead have no interest in the area but might still happen upon it accidentally. The Red-Light District, also called De Wallen, occupies streets in the city center that are also full of cannabis shops, cheese shops, and fry vendors. The women in the windows rent out rooms for an afternoon or evening and then try to entice passersby to join them for a fee.
It is pretty awkward to walk by the windows as the women move seductively and try to make eye contact to catch customers. I did not see anyone take them up on the offer while I was in Amsterdam, and tried to avert my eyes from the buildings in that area. Early in the day there aren't many windows filled so you can use that opportunity to look inside the rooms through the window if you are curious. Note that you absolutely cannot take pictures of the women in this area, as most of their family and friends do not know they are prostitutes: there are stories that tourists who have tried to do so have had the women come out of their windows and throw the cameras in the canals!
Read more about human trafficking in The Netherlands and how to combat it here: https://ec.europa.eu/anti-trafficking/member-states-0/Netherlands_en.
13. Rembrandtsplein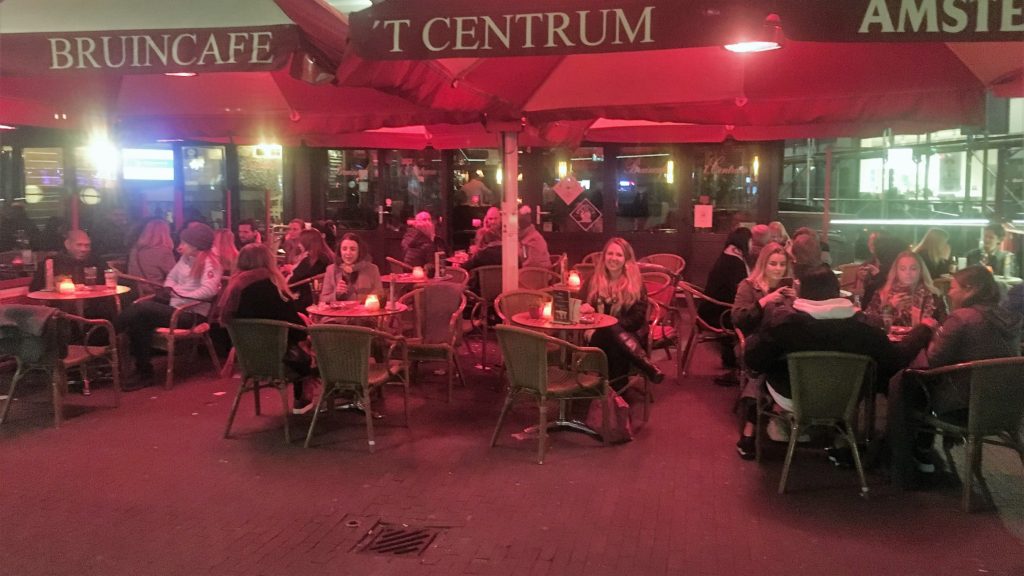 Though many roads in Amsterdam are narrow due to the canals, there are also a few open plazas, throughout the city, called pleins, where residents and tourists alike gather. Rembrandtsplein is one such plaza. The area is pretty chill, attracting a more mature clientele than the nearby Leidseplein. The plaza is surrounded by bars and restaurants open late into the night. This is the perfect place to relax and enjoy a meal or drink outside while watching people wander by after a long day exploring the city.
14. Leidseplein
If Rembrandtsplein sounds too laid back for you, head over to Leidseplein instead. Leidseplein is the plaza with all the young energy. Many students and young travelers take over this area at night participating in pub crawls or looking for a place to dance. As revelers move between establishments, they spend some time in the plaza itself. If you are looking for an exciting night out while in Amsterdam, you definitely want to be in Leidseplein.
15. Shopping in Jordaan or the Nine Streets
You can find typical souvenir shops all over Amsterdam. For more authentic goods, such as real Delft Pottery or maritime antiques, check out the Nine Streets in the Jordaan area of the city. This quiet area is great for wandering around when you want to get away from the excitement of downtown. You can peruse the shops at your leisure and make a few purchases of high-quality items to bring back and remember your trip by.
Find the Best Food and Drink in Amsterdam
16. House of Bols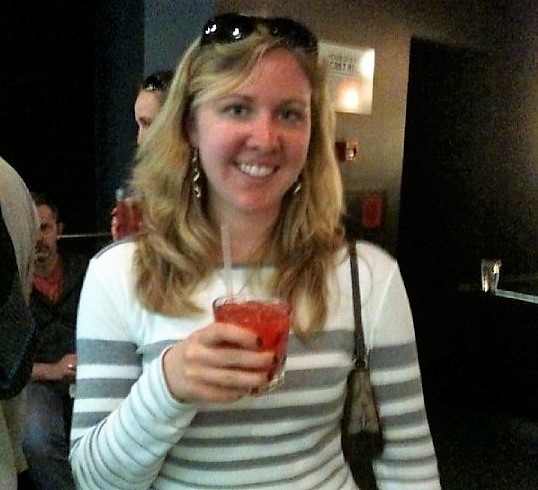 Everyone has heard of Amsterdam's Heineken Brewery, but have you considered visiting the House of Bols? Bols Genever has been made in Amsterdam since 1575. It was the precursor to British gin. You probably have seen its unique bottles filled with colorful liquids at your local bar or liquor store. Visit the House of Bols to learn about the history and current production of the genever, then enjoy two cocktails at the bar at the end of your visit. Even if you're not a gin fan you should still visit the House of Bols: unlike gin, Bols liqueurs come in over 45 flavors and make delicious cocktails for every taste!
17. Pannenkoeken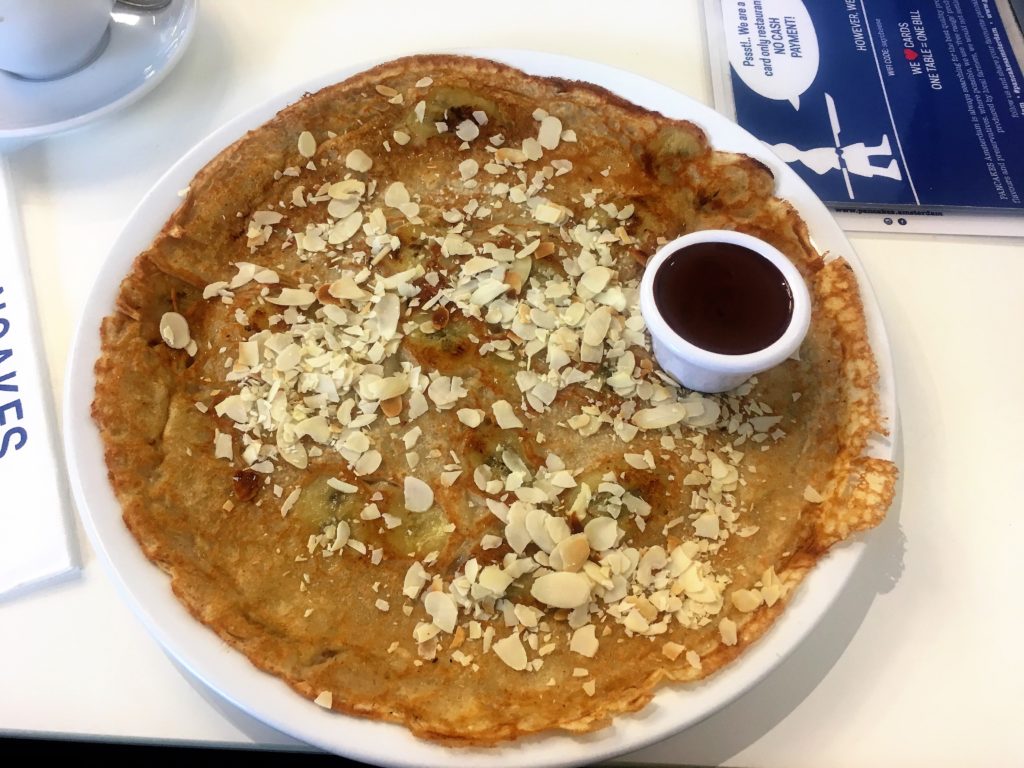 The most traditional Dutch breakfast is the Dutch pancake. A cross between an American pancake and a French crepe, Dutch pancakes are wide and flat with fillings mixed into them. You can try them savory or sweet. I recommend a fruit and Nutella combination. Any pancake house in the city will suffice for trying pannenkoeken, but I am particularly fond of the Carousel Pancake House by the Rijksmuseum.
18. Dinner in De Pijp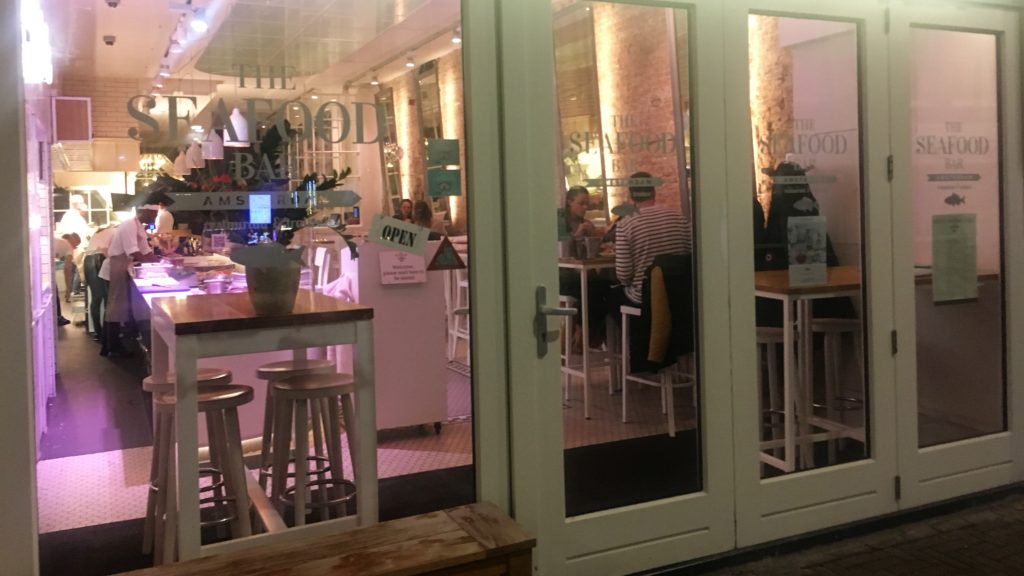 Get away from Amsterdam's touristy city-center for dinner and pick a restaurant in the trendy De Pijp neighborhood. The restaurants in this area will give you a more authentic experience. They are frequented by locals, not tourists. The atmosphere is very posh and you will get a great meal for your money! The Seafood Bar, in particular, is a beautiful establishment with high-quality seafood where you can take your time eating and enjoying your meal.
19. Coffee or a Drink at a Sidewalk Café
I have a confession: on my first trip to Amsterdam many years ago, I was naive. I thought that you could only buy cannabis at coffee shops. It did not occur to me that you could also get coffee, so I spent three days without caffeine. Last month, I made sure to enjoy at least one cup of coffee per day while in Amsterdam. The best way to enjoy Dutch coffee is sitting at a sidewalk café by a canal. You can order a cappuccino, latte, or espresso inside at the bar and then relax and watch the city's lively scenery pass by before continuing with your city adventure.
20. Argentinian Steakhouse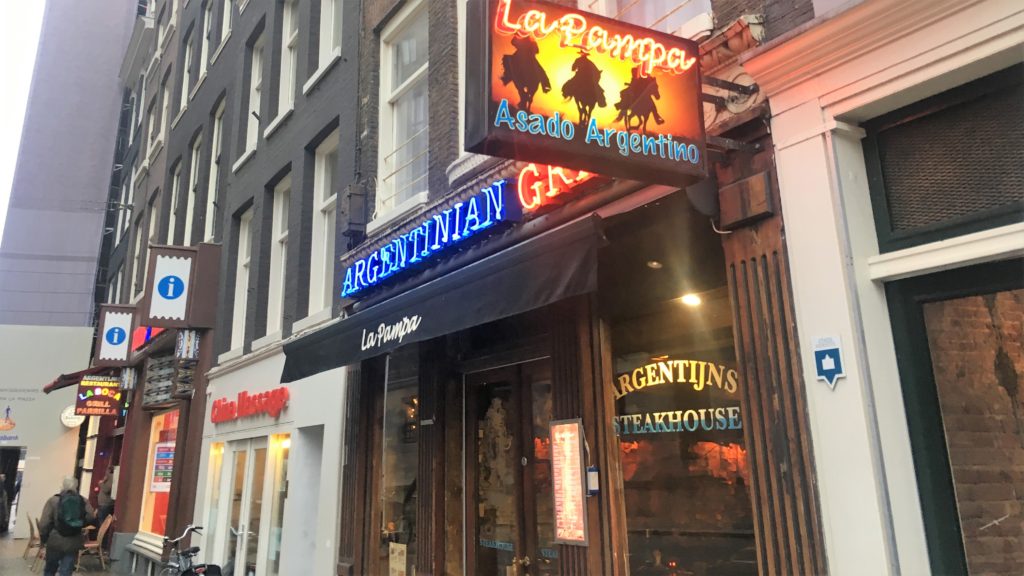 For no apparent reason, Argentinian steakhouses are a big deal in The Netherlands, particularly in Amsterdam! I must have seen at least five on one road, and they were all over the country. The only satisfactory explanation I received was that the Dutch like high-quality meat and steak-and-potatoes is an easy meal to make. This is the most common meal at the steakhouses. Due to the abundance of Argentinian steakhouses in the city, I had to have dinner here one night. It was one of my favorite meals of the trip! The steak was flavorful and perfectly cooked, the salad was light and refreshing, and I couldn't say no to a glass of Argentinian Malbec wine. It may seem odd to eat South American food while in Europe, but if you're looking for a great meal, stop by an Argentinian steakhouse in Amsterdam.
Outside the City
Take a Day Trip!
A weekend in Amsterdam is the ideal length. After that, unless you plan on visiting every single museum available on the I amsterdam City Card, you may run out of exciting things to do. Luckily, The Netherlands is a small country with many cities close together. They are all easily accessible with the cheap Dutch train system. Use your time in Amsterdam to take day trips to places like The Hague, Rotterdam, and Zaanse Schans!
Learn more about what to do in these cities here:
Notes on a couple of Amsterdam's top attractions not on this list: Anne Frank House and Heineken Brewery
If you're wondering why two of Amsterdam's most famous attractions, the Anne Frank House and the Heineken Brewery, are not on this list, it is not for lack of trying. I failed to visit these places on both of my trips to Amsterdam, and I do not want to recommend places I haven't seen for myself.
The Anne Frank House used to have visitors stand outside for hours waiting to gain access. The museum has since updated its method for granting tickets. 80% of the tickets available for each day are released online two months in advance. The remaining 20% of tickets are released online at 9 AM the day of the visit. If you plan a trip to Amsterdam less than two months in advance your only option is to try and buy tickets at 9 AM. However, you will need to log on to the ticketing website around 8 AM. I learned this by the last day and was still unable to obtain a ticket before they were sold out. I have heard it is much easier to get tickets two months in advance. If you want to visit the Anne Frank House, be prepared to be diligent in obtaining tickets online!
The Heineken Brewery is easier to gain access to. The only catch is you must show up more than two hours before it closes. On my last day in the city, I noted the brewery closed at 7:30 PM, so I planned to do some shopping and then visit around 6:30 PM. Unfortunately, I needed to arrive by 5:30 PM in order to gain access. I was disappointed I could not visit the brewery and will put it on my list first-thing the next time I am in Amsterdam.
Love this post? Save it to Pinterest for later!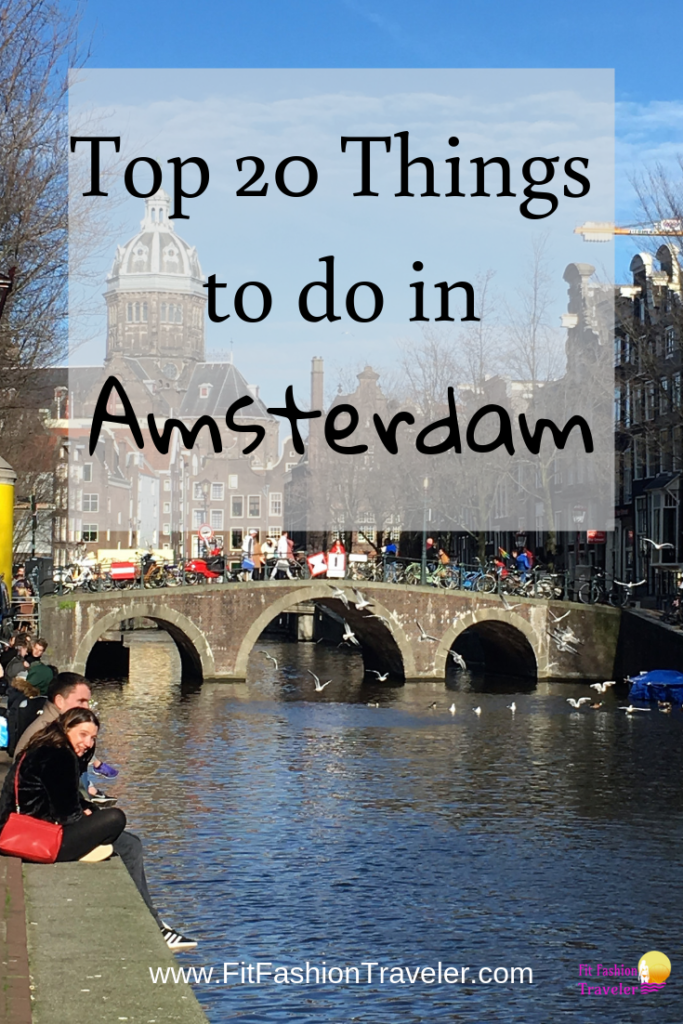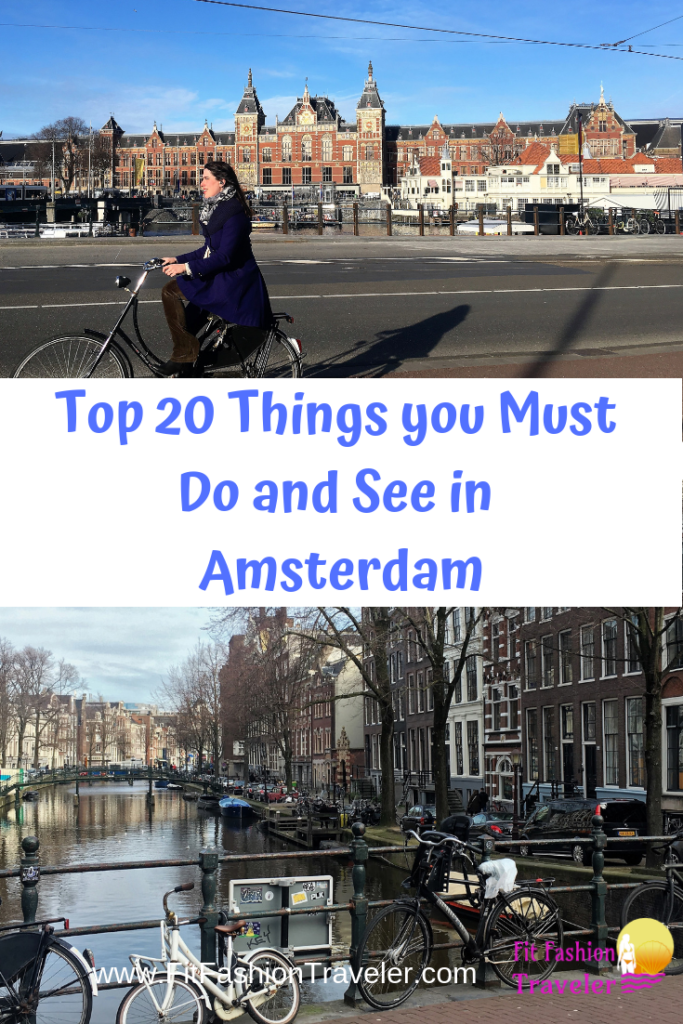 Please follow and like this page: