BREAKING NEWS: you will soon need a visa to visit Europe!
Actually, despite all the recent news headlines, this is not quite true.
The truth is the European Union ("EU") is creating a new travel authorization security system for travelers arriving from its sixty visa-waiver countries. The system will be implemented in 2021. It will require proof of pre-approved travel authorization. Though this system is not a new visa, it means there are some immigration changes you'll want to know about.
N.B. While part of this post addresses legal requirements, nothing written here should be construed as legal advice. The information in this post is accurate at the time of publication. For the most up-to-date information, please see the government websites at the bottom of this post.
Current Status of European Travel for Americans
Visa Waiver Program for Americans
The US has agreed to Visa Waiver Programs ("VWPs") with 25 of the 26 Schengen Area member states, with Poland being the exception. It also has a VWP with the UK, Ireland, Andorra, Monaco, and San Marino. This means that citizens of these European countries can enter the US visa-free. American citizens may do the same when arriving in any of these countries.
For more information on VWPs, see the "What is a Visa?" section below.
Travel within the Schengen Area
One of the major commitments of the EU is the free movement of people. The current system almost reflects this ideal. Instead of the free movement within the EU, there is free movement within the Schengen Area. The EU consists of 28 (soon to be 27) European member states, while the Schengen Area has 26 slightly different member states. Norway, Iceland, Liechtenstein, and Switzerland are not EU members but they are Schengen Area members.
The 26 Schengen Area member states are Austria, Belgium, Czech Republic, Denmark, Estonia, Finland, France, Germany, Greece, Hungary, Iceland, Italy, Latvia, Liechtenstein, Lithuania, Luxembourg, Malta, Netherlands, Norway, Poland, Portugal, Slovakia, Slovenia, Spain, Sweden, and Switzerland. If you are an American citizen entering Europe through any of these countries you do not need a visa.
Once a traveler arrives in a Schengen country, he or she may travel between the other Schengen countries for up to 90 days without encountering immigration authorities. This is true for both visa-free travelers and travelers with a formal, pre-approved Schengen visa. It is comparable to when a foreign visitor enters the US at New York's Laguardia airport and goes through immigration there but then takes a road trip through Pennsylvania, Ohio, and Illinois to reach Chicago without encountering any additional immigration stops.
This visa-free travel situation and free movement within the Schengen Area will not change with the new EU travel authorization system.
European Travel Information and Authorization System
On September 14, 2016, European Commission President Jean-Claude Juncker delivered a speech advocating for an increased European security system. He said "We need to know who is crossing in our borders. This way we will know who is travelling to Europe before they even get here". Two months later, the European Commission proposed a new travel authorization system called the European Travel Information and Authorization System ("ETIAS").
Origin of ETIAS
On July 5, 2018, the European Parliament adopted ETIAS in agreement with the European Commission. The adopted law permits the establishment of the ETIAS under the purview of the newly-strengthened eu-LISA security agency. The Parliament has tasked eu-LISA with making ETIAS operational by the end of 2021. Many news outlets are reporting that the system will be in place by January 1, 2021.
What is ETIAS?
The European Commission is emphatic that "the ETIAS authorization is not a visa." After many false news reports this past week about a new EU visa, the EU Ambassador to the US, Stavros Lambrinidis, posted on Twitter that "[n]either the #ESTA nor the future #ETIAS (EU equivalent) are visas. They carry out pre-travel screening for travellers benefiting from visa-free access."
ETIAS is a pre-travel authorization program designed to reduce immigration procedures and wait times, as well as help improve the security of the EU. It pre-screens travelers for security, health, and migration risks. The system will allow the EU to keep track of visitors from countries that otherwise do not need a visa to enter the Schengen Area. The European Commission believes the system will be affordable, simple, and fast. It will allow cross-checking of EU information systems and provide clear rules for refusals with an appeals process.
Potential travelers will have to submit a short online application and pay an application fee of 7 euros. The EU estimates that 95% of applicants will receive an approval by email within minutes of submitting the application. Once a traveler receives an ETIAS travel approval, they can travel freely to and from the Schengen Area using that approval for up to three years. The approval is connected to your passport, so if your passport expires before the three-year authorization expires you will have to re-apply.
What this Means for Americans, Brits, Australians, and Other Visa-Free Country Travelers
The ETIAS travel authorization will be required for visa-free travelers, which will likely include UK citizens post-Brexit. Travelers that are entering Europe visa-free for tourism, business, or just in transit to another region will need an ETIAS authorization. This means if you have a flight from New York to Dubai with a connection in Frankfurt, you will need an ETIAS authorization even if you never intend to leave the Frankfurt airport.
If you are coming from a country that requires a formal Schengen visa, you will not need to apply for an ETIAS travel authorization. If you are a dual citizen with citizenship in a Schengen Area country, you will not need ETIAS authorization if you enter Europe using your European passport.
Using your ETIAS Authorization
When the ETIAS system enters into effect, travelers will need to receive authorization prior to arriving in Europe. When you first use your authorization, you will have to enter the Schengen Area through the country you indicate in your application. If you enter through a different Schengen country the authorization will be invalid and you will be denied entry. Note that most travelers pass through European immigration at their port of arrival. For example, a traveler flying from Boston to Rome with a connection in Madrid usually enters Europe in Spain, not Italy. After your initial use of the authorization, you may enter through any Schengen country you would like using your valid authorization.
N.B. the ETIAS authorization will not be required for travel to UK, Ireland, Romania, Bulgaria, or the former Yugoslav countries (except Slovenia) until they join the Schengen Area.
After receiving your authorization and using it to enter the Schengen Area for the first time, travel to and from the EU will be no different than it is today until your authorization or passport expires, at which time you will need to reapply. This means ETIAS will be a slight inconvenience for those of us traveling from visa-free countries the first time we go to Europe, but otherwise will not change our travels very much.
How to Apply for an ETIAS Authorization
Once the system goes live, citizens of visa-free travel countries will be able to apply online. The application will include questions about basic biographical information, such as your full name, country of residence, date of birth, and similar information about your parents. It will also ask questions related to health, security, and migration, such as drug use, terrorism links, travel to conflict areas, past EU travel, criminal history, and employment history. No biometric data like finger prints will be required, though it will be beneficial to apply with a biometric passport.
After completing the online application form you will provide an email address and pay by credit or debit card. When payment is received, your information will automatically be cross-checked against security databases including Interpol and Eurpol. If there are no "hits," you should receive your authorization by email within minutes of applying.
How Far in Advance Should You Apply
Though most applications are expected to be approved within minutes, the length of the refusal process means you should apply at least five weeks before your travel will take place. Carriers will not allow a passenger to board their transportation to Europe without proof of authorization. Even if you are certain you will receive travel authorization mistakes and false hits can happen. You may need the full five weeks to clear up any issues and receive valid authorization.
What to do If You're Refused an Authorization
If your information produces a hit on one of the information security databases, you will receive an email stating your application has been refused. At this point, your application will be manually reviewed by ETIAS staff and additional documentation may be requested. You will have 96 hours to provide the requested documentation. The national authority of the Schengen Area country to which you apply then has four weeks to make a decision on your authorization. The European Commission assures travelers that an appeals process will be available for individuals who are refused authorization after the manual review.
How ETIAS Authorization is Different from a Visa
The EU has made it clear that an ETIAS authorization is not a visa. It is the European equivalent to the current ESTA authorization required by the US for travelers taking advantage of a Visa Waiver Program. ETIAS authorizations will facilitate immigration procedures upon arrival in Europe because the cross-checking of individuals against international security databases will have been done ahead of time.
What is a Visa?
A visa is "an endorsement issued by an authorized representative of a country and marked in a passport, permitting the passport holder to enter, travel through, or reside in that country for a specified amount of time for the purpose of tourism, education, employment, etc". Visas may be granted before travel, with a permanent visa stuck to a page in your passport. Others are received upon arrival at a country's border. Some countries have implemented Visa Waiver Programs ("VWPs"). Regardless of the type of visa, foreign travelers must be pre-approved for travel by through one of these three methods.
Formal Pre-Approved Visa
When you think of a visa, you probably think of the fancy certificate stuck to a page in your passport. Maybe you received one when you studied abroad in college. Perhaps you are one of the fortunate travelers to have a ten-year, multi-entry tourism visa for China. You may have opted to obtain a pre-approved visa before traveling to a country like Vietnam.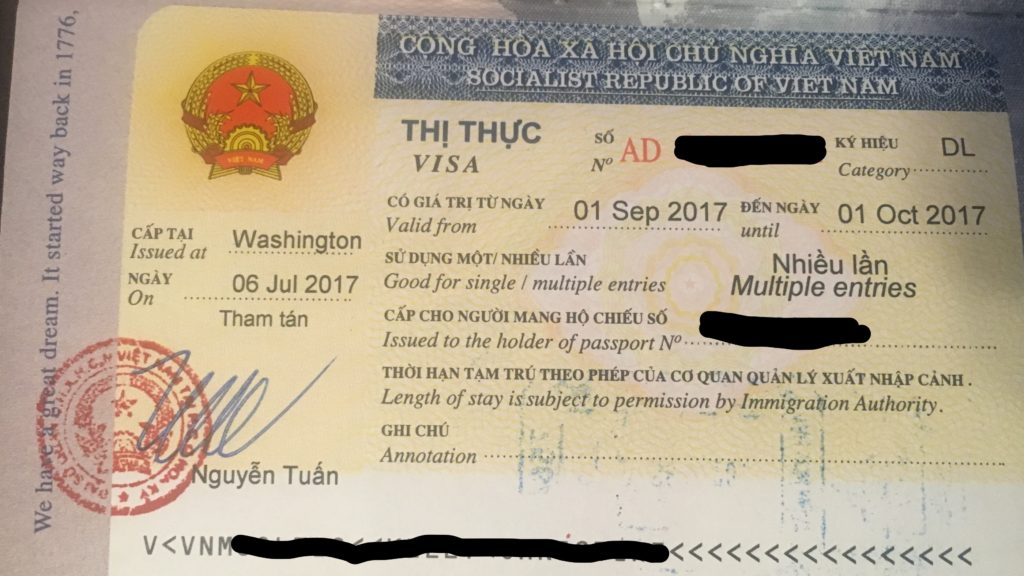 Pre-approved visas require a lengthy and costly application process. Applicants fill out a multi-page application with biographical, financial, and travel information. The applicant then sends a paper copy of the application to the relevant consulate along with passport photos, his or her passport, and the application fee. Application fees range from $20 USD to hundreds of dollars depending on the country and type of visa requested. Sometimes applicants have to appear in-person at the consulate to receive the visa and collect their passport. If you live in a major city this may only require a few hours off work. Alternatively, imagine living in Alaska and having to appear in person at a consulate in San Francisco!
Formal, pre-approved visas are the most difficult to obtain. They are usually required in reciprocity. If the US requires citizens of a country to obtain a formal visa before visiting, US citizens will have to receive a formal visa before traveling to that country as well.
Visa on Arrival
You may have previously received a visa on arrival and not even known it! Visas on arrival look similar to entry stamps received under VWPs. The difference is visa-on-arrival stamps lay out the visa requirements and restrictions for the traveler in the stamp. The stamps are often accompanied by payment of an entry or exit fee. You must also fill out a paper with your travel details and provide it to immigration officials upon arrival. This paper is cross-checked with another similar paper turned over when you leave the country.
Countries implementing visa on arrival programs do not have bilateral treaties with your country of citizenship to provide visa-free travel. They have nevertheless decided not to require the process of applying for a visa before traveling to their country.
Visa Waiver Programs
Visa Waiver Programs ("VWPs") allow citizens of participating countries to enjoy visa-free travel to other participating countries. VWPs are established with bilateral treaties allowing reciprocal treatment for citizens of each country involved. There are thirty-eight countries currently participating in the US VWP, including most EU and Schengen Area member states.
Traveling to a VWP country requires nothing beyond speaking with an immigration officer upon arrival. By virtue of being a citizen of a participating country, you may enter another participant country without a visa as a tourist or business person. If you plan to study or work in a foreign country then you will probably need to apply for a visa.
When you arrive at a visa-free country, you will likely receive a stamp in your passport showing port of entry into the country. This stamp is not a visa. It is proof that you entered the country legally. Most immigration authorities will check for this stamp when you leave the country.
The ETIAS Difference
ETIAS does not provide automatic immigration authorization as a visa does. It also does not lay out requirements and restrictions for travelers to follow as visas do. It is merely a first-step authorization for traveling to or through Europe. Visitors with a valid authorization may still be denied entry by immigration officials for other immigration-related reasons. ETIAS authorization merely proves to carriers like airlines and to European immigration officials that you do not pose a security, health, or migration threat to Europe. This is only the first step in being allowed to enter Europe, which is currently done when you arrive at the border. Starting in 2021, this check will be completed ahead of time. I'm hopeful this will mean shorter immigration lines at European airports once the program is in place!
For more information, see the following websites used to write this article:
http://europa.eu/rapid/press-release_IP-18-4367_en.htm
https://www.schengenvisainfo.com/etias/
https://www.cbp.gov/travel/international-visitors/visa-waiver-program
12 March 2019: This post has been updated for clarity, and to add information about travelers transiting through Europe.
Love this post? Save it to Pinterest for Later!