Two months ago, I was not planning to spend New Years Eve in Orlando. I hoped to go skiing in Canada. However, when I suggested this to my dad - my travel companion for the weekend - he requested that we set our sights on a warmer locale.
The flights to and hotels in Orlando were surprisingly cheap for New Years Eve weekend. Furthermore, I had not yet seen the new half of Harry Potter World at Universal. I also suspected that Disney would have an awesome midnight celebration. After reading this article from blogger Tessa Koten about New Years at Epcot I was hooked. My dad and I booked our flights a few days before Christmas and we were on our way to celebrate the new year in Orlando!
Spirit Air Flight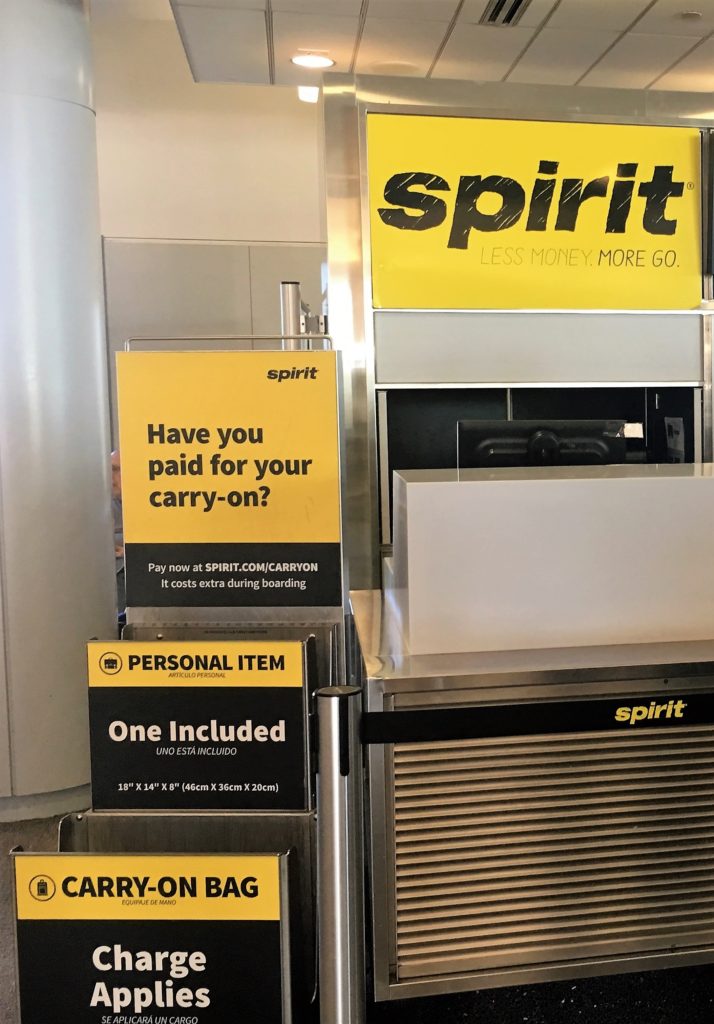 The flights were surprisingly cheap in part because my dad and I flew budget airline Spirit Air. We chose Spirit because the airline offered direct flights to and from Orlando at reasonable times of day.
This was my first flight on Spirit Air. I had flown other budget airlines in Europe and Asia before so I was not as concerned as first-time budget travelers. Still, I set my expectations low.
Upgrades
When you fly a budget airline you must pay a fee for everything on top of your ticket price. The "upgrades" my dad and I paid for were one checked bag and BIG Front Seats. One checked bag was cheaper than two carry-ons. Plus, we wouldn't have to carry bags through the airport and we could bring full-size liquids. This upgrade was worth it until we had to get our bag from baggage claim in Orlando.
Checked Baggage
Many people (falsely) believe that budget airlines are cheap because they are not as safe as mainstream airlines. This is not true. To operate flights in the US or Europe, all airlines must pass the same safety inspections. Budget airlines are cheap because they make you pay for "extras" and they pay the lowest airport fees. Low airport fees means last priority when there is an airport-wide delay and when the baggage handlers need to unload checked bags.
It took almost an hour to leave the airport from the time my dad and I disembarked the plane. I don't normally check bags so I thought maybe this was normal. The other passengers made it clear this was an excessive amount of time. Because of this time, and because the personal baggage allotment is pretty large (the size of a small carry-on), I recommend against checking a bag on Spirit Air.
BIG Front Seat
I do recommend booking the BIG Front Seat option. One of my cousins recommended this upgrade to my dad and I over Christmas. I hesitated to spend any additional money on what was supposed to be a budget-friendly vacation, but my dad convinced me it was worth it. The BIG Front Seats look like they are former first class passenger seats from Boeing 737 aircraft that Spirit bought at a discount. They are large and comfortable, but do not recline and do not offer in-seat entertainment. They also look used. Despite all these drawbacks, I felt like a first class passenger sitting in the seat, even though I had to bring my own food and water on-board.
After my dad and I finally obtained our checked luggage, an Uber took us to our hotel, the Hilton Orlando resort. I was amazed by this hotel. The lobby was huge. It included three restaurants, a cafe, and hotel shop. The outdoor area was even bigger. There were two giant pools, three hot tubs, a great lazy river, three-story water slide, pool bar, and outdoor games like volleyball and cornhole. Although the property was somewhat out of the way of everything, I am glad we stayed there. I would absolutely stay again next time I am in Orlando.
Outdoor Pool Area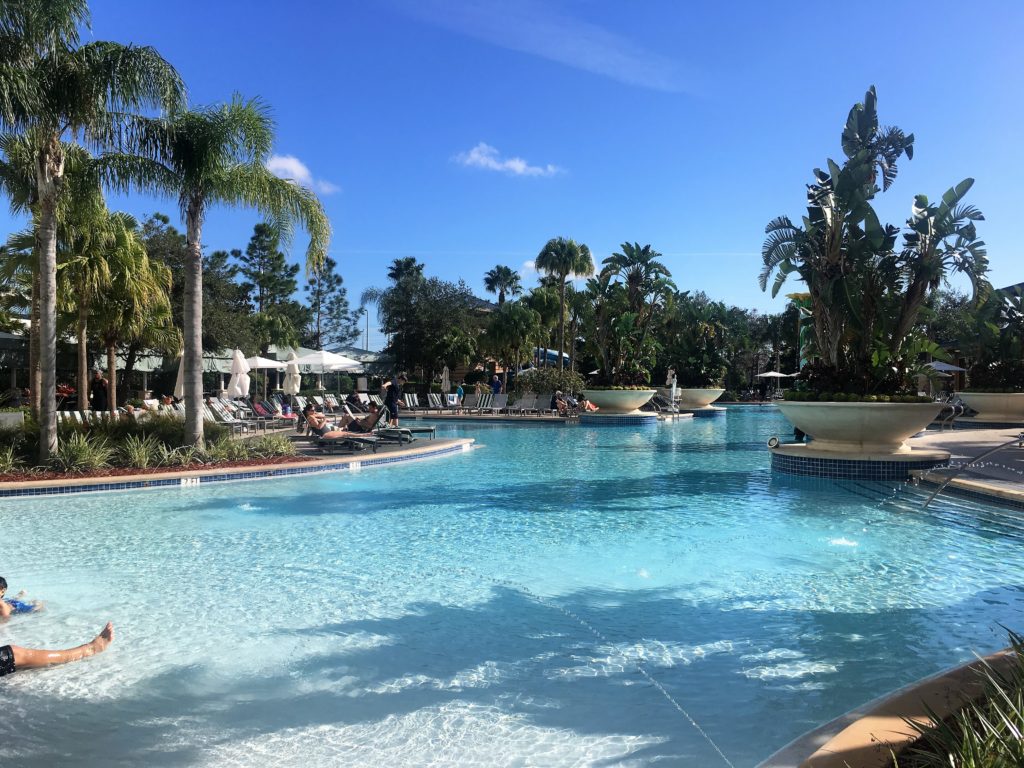 I have been to Orlando numerous times before, so I expected the hotel to have a pool as most Orlando hotels do. The pool area at the Hilton Orlando was more than just another hotel pool. The main pool was about 100 meters long. The three hot tubs were well-spaced and large enough for multiple people to use them comfortably. The pool bar was centrally located and provided delicious food and drinks. It also had about six big-screen televisions broadcasting the college football bowl games. The water slide was as good as any you would find at a small water park.
The best part of the pool area, and the place where I spent most of my time, was the lazy river. It was warmer than the main pool but still refreshing. It allowed you to be in the water while still doing something, either sitting in an inner tube holding a drink or swimming along with the current.
Indoor Cafe and Restaurants
The cafe on the first floor of the resort was key to my vacation. It provided coffee and espresso drinks each morning. There was cheap drip coffee available in the hotel room, but purchasing a large iced caramel latte to begin the day meant I could stay on-the-go exploring the theme parks for 12+ hours without needing a break to either rest or get more coffee.
The on-site restaurants were decent as well. I only had the chance to try David's Club Bar & Grill, but it suited mine and my dad's needs perfectly. David's had two giant TVs in its lounge area with over-sized chairs and low tables in front of them. At the end of a long day of travel or day at the parks it was great to be able to settle into a chair, order a nice glass of wine and appetizer, and watch a few quarters of football on the large screen.
Universal Studios Orlando on New Years Eve Weekend
Six years ago I visited Universal Orlando's Islands of Adventure park to see Harry Potter World. About four years ago, Universal built a second Harry Potter World in Universal Studios park and added a ride on the Hogwarts Express connecting the two. You can only access the Hogwarts Express if you have a multi-park ticket. I was determined to ride the Hogwarts Express, so I insisted on buying the one-day Park-2-Park ticket. I have no regrets.
Harry Potter World
My first visit to Universal Studios was in 2001. My middle school best friend was spending her February vacation in Orlando, so my parents agreed to go on vacation there as well. We spent a full day going on rides like Back to the Future, JAWS, and the Hollywood Studios Tour. None of these rides exist anymore. Instead, areas depicting real places like New York City, San Francisco, and London have been created.
The London area was very well done. Though Kings Cross Station is miles from the Leicester Square Station tube stop in real London, I was impressed that everything looked very authentic.
After admiring the authenticity as I walked along the typical London street, I quickly found myself moving away from London and into another city. I stopped to pause. Where was Diagon Alley? And the Escape from Gringotts ride? How had I missed them?
I asked a nearby vendor where the entrance was to Gringotts (the Harry Potter Wizarding Bank). She pointed to the Leicester Square Station entrance, a large red brick building. Standing in front of the station, I peered into a large opening in the front wall. A second wall was set back a few feet. It looked like the entrance to the bathroom at an airport or sports stadium. I expected to find a long line of people waiting to go on the Escape from Gringotts ride on the other side of the wall.
Inside Diagon Alley
Instead, as my dad and I turned the corner around the stack of bricks, Universal Studios Orlando disappeared and Diagon Alley opened up before our eyes! I don't know what type of illusory magic Universal used to create this effect, but I definitely couldn't see the four blocks of three-story wizard buildings from the park, and aside from the occasional helicopter passing overhead, I thought I was in Diagon Alley, London, while standing in its square. Magical shops lined the streets, including Honeydukes sweets, Olivander's wand shop, the Weasley's Wizard Wheezes joke shop, Borgin & Burkes, and the Leaky Cauldron pub. In the center of it all was Gringotts with a dragon perched high on the roof.
Most of the tourists were wearing various forms of Harry Potter paraphernalia, while children dressed in full wizard robes. Olivander's was selling interactive magic wands that would cause different effects around the Alley, such as making a stone frog fountain squirt water at passersby. Diagon Alley at Universal Studios Orlando exceeded my expectations. It felt as real as an imaginary place could be.
Escape from Gringotts
The Escape from Gringotts ride is a 4D adventure inside the wizard bank. It follows the story from Harry Potter book seven where Harry, Ron, and Hermione break into Gringotts bank to visit an evil wizard's vault. They have to spontaneously come up with an escape plane when the bank's security devices remove the enchantments the trio used to break in.
Thirty minutes after the park opened the wait for the ride was already four hours long. There was no way I was spending almost half my day in line for one ride no matter how good it was. Luckily there was a "single riders" line option. Theme park rides that offer single rider lines are the best. Individuals in these lines fill empty space in carriages on rides to ensure ride efficiency. Unless you really want your souvenir photo screaming on a roller coaster with your friends there's no reason not to use the single riders line. My dad and I bypassed the four hour wait and were on the ride in 15 minutes!
Hogwarts Express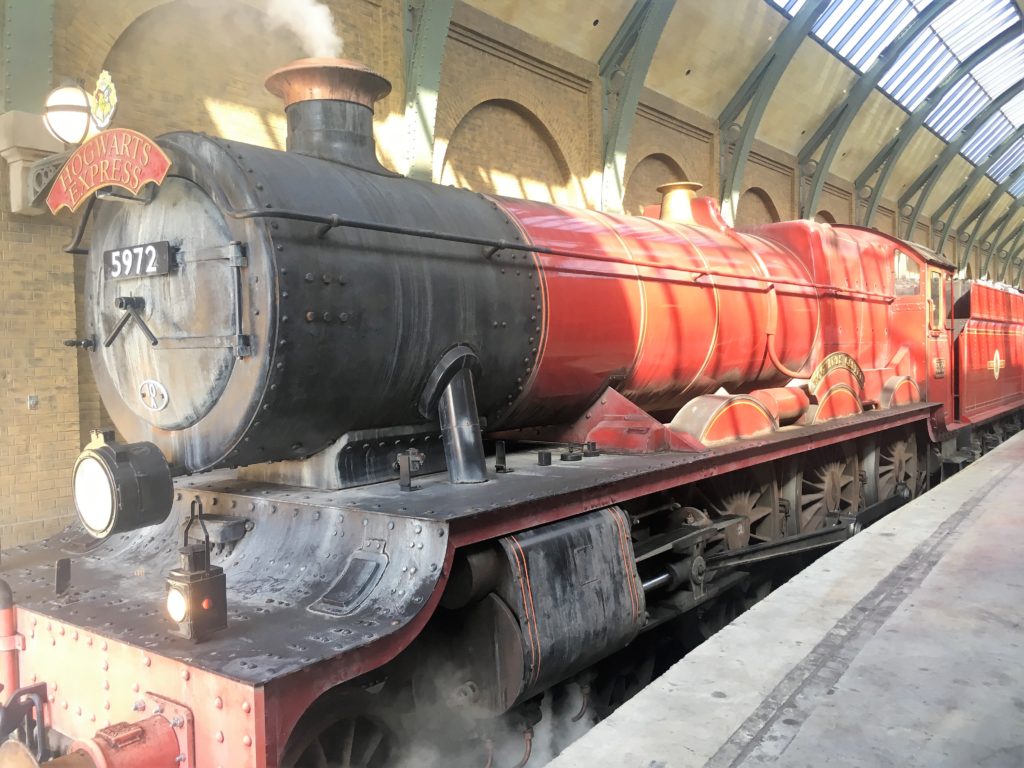 My expectations for the Hogwarts Express were mild. Because this was my only opportunity to ride on the "Hogwarts Express," I wanted to experience it. I expected the ride to be a normal train that would slowly move between the two parks in a couple minutes. Instead, Universal made it into another ride experience.
To get on the ride at Kings Cross, guests go "through" the wall between platforms 9 and 10 to platform 9 3/4. Universal set up an illusion glass in the train station so approaching guests see those ahead of them disappearing into the wall. Such a neat effect!
Once on the train the compartment door closes and scenes of London streets are shown out the window. The streets turn to the English and Scottish countrysides. The scenery includes the Glenfinnan Viaduct and dementors flying by. On the other side of the compartment, shadows of Harry, Ron, and Hermione pass by. When the train reaches Universal Islands of Adventure in Hogsmeade, Hagrid greets you as you arrive. For someone who grew up always wanting to receive my "letter" and be whisked away to Hogwarts, this was an incredible experience. Universal did its best to make it as real as it possibly could be.
Hogsmeade Village and Hogwarts
I did not spend much time in the Hogsmeade area, having already visited in 2013. Almost nothing had changed. The one difference I noticed was the Dragon Challenge roller coaster ride was missing. It was demolished in 2017 to make room for a new Harry Potter roller coaster attraction, hopefully opening soon.
My dad and I wandered around the village, went on the Forbidden Journey ride in Hogwarts Castle (still the best Harry Potter ride I think), then grabbed some Butterbeer and left Harry Potter World to look for better food and explore the rest of the park.
Universal Islands of Adventure Park
Islands of Adventure has eight different "lands" within the park. For lunch, we went to the Lost Continent for some healthy Mediterranean food: a gyro, a Greek salad, and a hummus plate. After lunch we sought out a mild ride to go on while digesting.
Poseidon's Fury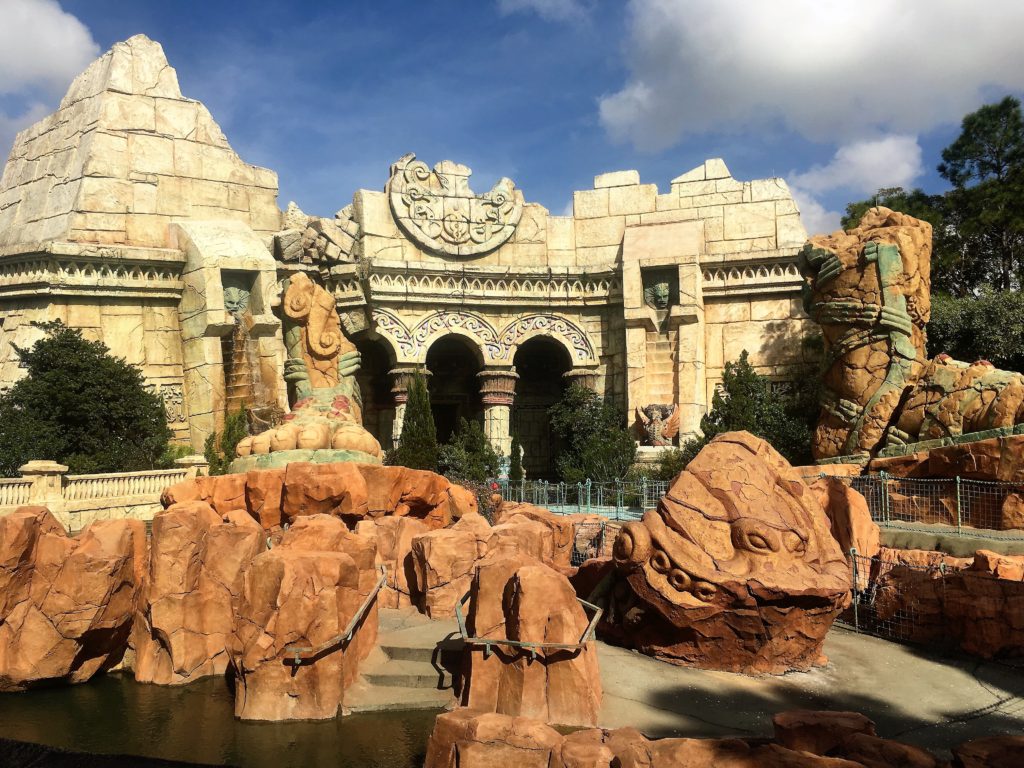 I did not know what the Poseidon's Fury ride entailed when we got in line for it after lunch. The park guide at the entrance said we would be standing on our feet the entire time. We entered the first room of the "ride" after about 20 minutes in line and the show began. As soon as the actress started talking, I knew I had done this ride before. I thoroughly regretted going on it again.
Poseidon's Fury is not really a ride. It is a show with an actress pretending to be a junior archaeologist who "wakes up" Poseidon and his rival Greek god. She gets the group stuck underground in a dig site where the gods engage in battle. Guests go into a few different rooms, which involves walking through a somewhat-cool water tunnel. They see a final performance with a lot of water and fire effects that are sort of neat in the last room. I would skip this attraction if you are looking for anything more exciting during your visit.
Jurassic Park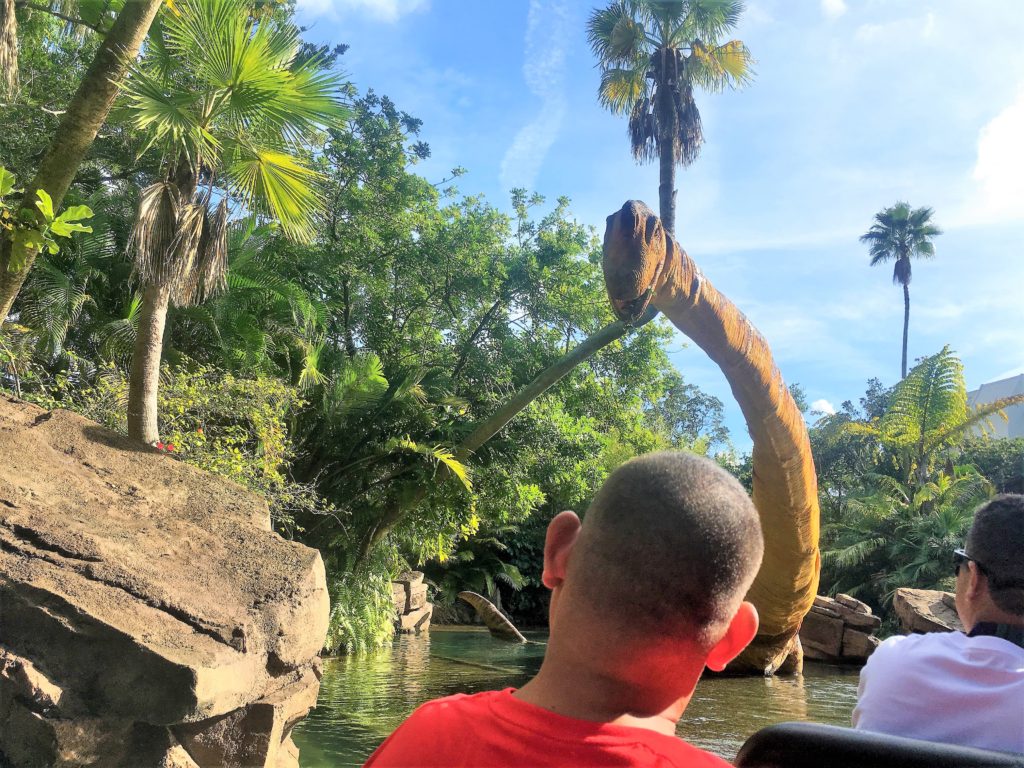 The next land my dad and I visited was Jurassic Park. We went on the river raft ride in 2013, but the giant log flume ride provided some action and entertainment, so we went on it again. This was another ride where the single riders line potentially saved us hours of waiting in line. Admittedly I'm not a huge fan of rides that include a large drop. I closed my eyes at the top of the crest when our boat went down the flume, but it was still fun! My dad, who is much more afraid of heights than I am, made fun of me afterwards because he kept his eyes open the whole time.
Skull Island
Our final stop for the day was the Kong ride on Skull Island. This ride always has a long wait. We decided to wait this time because we had never gone on it before and it seemed highly popular.
WARNING: If you cannot get on the Kong ride within 15 minutes, do not wait in line. We must have been on our feet for two hours going through the twists and turns Universal uses to prevent guests from seeing the long line around the corner. In the end, the ride was three-minutes long. King Kong appears on some screens next to you and the large caravan you're in shakes a little.
Waiting so long to go on this unimpressive ride did us in for the day. We took the Hogwarts Express back to Universal Studios, walked through a few more areas of that park, and then went back to the hotel to get some dinner and relax.
Part II: New Years Eve Day at Epcot coming soon!
Like this post? Save it to Pinterest for later!
*N.B. this post contains affiliate links. Thins means if you click on a link and purchase a product, I receive commission at no additional cost to you. Thank you for supporting this page!