(N.B. this post only addresses requirements for the "Support the Cuban People" visa, which is one of twelve visas available for Americans traveling to Cuba. While part of this post addresses legal requirements, nothing written here should be construed as legal advice.)
In 1960, the U.S. Treasury Department's Office of Foreign Asset Controls ("OFAC") placed an economic embargo on the country of Cuba. For practical purposes, this means Americans cannot travel to Cuba for tourism, and cannot spend money at any institution that is owned by the Cuban government or military. If you want to visit Cuba as an ordinary person (i.e. not on a volunteer/mission trip, not on an educational trip, and without close family on the island to visit), you must travel either with a group tour on the People-to-People visa, or plan your own trip with the Support the Cuban People visa. If you do not mind active vacations, the easiest option is to go on the Support the Cuban People visa.
Pre-Travel Requirements and Recommendations
Booking flights and accommodations
Flights
You can easily book a commercial flight to Havana from any major U.S. city, just like you would book a flight to any other foreign city. Five commercial carriers (American, JetBlue, Southwest, United, and Delta) offer direct flights to Havana from nine American cities (Miami, Fort Lauderdale, Orlando, Tampa, Houston, Charlotte, Atlanta, Newark, and NYC-JFK). If you are not departing from one of these airports you'll have to book a connecting flight through one of them.
When booking your flight, you'll be asked which visa you are traveling with. Select "Support for the Cuban People." To enter Cuba, Americans are required to have temporary Cuban health insurance, since American health insurance won't be available in Cuba. Most, if not all, commercial airlines include this in the price of your plane ticket. Check the enumerated fees and taxes when you purchase your ticket to ensure that the insurance is included. When in the country, your boarding pass to Cuba will be your first item of proof of health insurance if you need to use it.
Your airline will also offer you the opportunity to purchase your Cuban visa separately. The visa should cost between $85 and $100 per person depending on the airline. Also depending on the airline, you can purchase the visa online ahead of time, or at the airport from which your flight to Havana leaves: for example, if you are flying from Boston to Miami to Havana, you will need to purchase your visa in Miami, not Boston, if you are buying it at the airport.
Accommodations
To fulfill the Support for the Cuban People visa requirement, you must stay in a casa particular, which is like a bed and breakfast where the hosts live in the house in which you are staying, or select an AirBNB apartment. This is so that your money is going to a private individual, and so that you have hosts to interact with during your stay to learn more about the country from them. If no one in your party speaks fluent Spanish, make sure to book an accommodation where at least one host speaks some English. Also try to find a place that has a WiFi connection available, even if you have to pay for it. Public internet was only introduced to Cuba in 2011, and it is very difficult to come by when you are out and about. Most accommodations also do not yet have WiFi. Your host may charge you $1 or $2 per hour to use the WiFi, but at least you'll know where and when it will be available.
Vaccines
The recommended CDC vaccines for Cuba are Hepatitis A and Typhoid. Typhoid is available as both an injection (lasting 2-3 years) and a live oral vaccine (lasting 5 years). The Hepatitis A vaccine is only offered as an injection (lasting 1 year for the first shot, 20 years with the booster shot, which may be taken after your trip). Note that you must receive the vaccines weeks before you will be exposed to the disease, so plan to receive these at least one month before traveling to Cuba if you choose to get them.
A word on the typhoid oral vaccine: while it seems beneficial to get a vaccine that will last 5 years, and to not have to get a shot, the oral vaccine is live and comes with very precise instructions. It consists of 4 pills that must be taken exactly 48 hours apart from each other. They also must be kept refrigerated at all times (in other words, don't pick up the vaccine and then run errands before going home), not left in your mouth for more than a few seconds, and taken with very cold water to wash them down. It is also possible you will get sick and feel like you have a mild case of typhoid the day after taking each pill. This feeling may be progressively worse with each pill, leaving you feeling very sick the day after the last pill. After eight days you will probably feel totally fine and be vaccinated for years, but these side effects should be taken into account before opting for the oral vaccine.
As for Hepatitis A, you may think you are very careful with what you eat and drink, but there is really no way of knowing where or when you may be exposed to the disease. Hepatitis A is transmitted through the ingestion of fecal matter, which could happen if someone preparing food doesn't wash their hands after using the bathroom. Considering the lack of soap and running water in the country outside of major cities (and sometimes in major cities) this probably happens often. While it is always a good idea to avoid raw food and ice while traveling in developing countries, it is also a good idea to be vaccinated against Hepatitis A in case you accidentally or intentionally let your guard down to try some of the local cuisine. I know multiple people who are careful, experienced travelers who were exposed to Hepatitis A in Cuba: those who were vaccinated had a wonderful, disease-free trip, while those who were not contracted the disease and had to live with it for weeks upon their return. Just something to consider.
Money
American credit, debit, and ATM cards will not work in Cuba because of the economic embargo. You will need to bring any money you may need with you in cash. In light of this, anything you can pay for by credit card online ahead of time should be done so (this includes your accommodations and probably some activities). After that, plan on bringing about $150 per day per person in cash. While this may seem excessive, it is better to have too much money and re-deposit it when you return to the U.S. than run out of money and not be able to pay for a taxi back to the airport.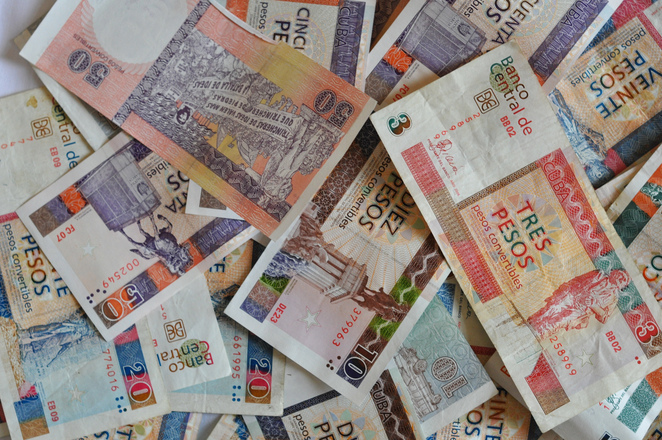 There is mixed advice out there on whether it is necessary to convert USD to CAD or EUR before traveling to Cuba. Cuban money exchanges ("Cadecas") will take USD, but a 10% fee is charged to convert money from USD to the Cuban CUCs because USD is otherwise useless on the island. The exchange rate is 1:1 for USD to CUC. Assuming the exchange rate of USD/CUC to EUR is 1.25:1, you have the following scenario: if you bring $1250 USD to Cuba, you will receive back 1,087.50 CUC (1,250 CUC minus the 10% USD transaction fee of 125 CUC, minus the standard 3% exchange fee of 37.5 CUC). If you first change your USD to EUR before leaving the U.S., you will exchange $1250 USD for 970 EUR (1000 EUR for the exchange rate minus the 3% transaction fee of 30 EUR), and then exchange 970 EUR for 1162 CUC (1198 CUC for the exchange rate minus the 3% transaction fee of 36 CUC). You see that by first exchanging your money to EUR you receive 75 CUC more for your $1250 USD, even with the double transaction fee.
When you are leaving Cuba, because the Cubans want to get rid of their USD, there is no 10% transaction fee, so you can just exchange all your CUCs back to USD minus the 3% transaction fee again. You may also run into airport workers such as janitors or security guards who are willing to convert your CUC to USD without the transaction fee. Usually these transactions are legitimate, though under the table from the government, but if you end up with a counterfeit bill you will have no recourse to reclaim your money.
Visa Requirement: Itinerary
To meet the requirements for the Support the Cuban People visa, you must maintain a "full-time schedule" of activities that "(i) enhance contact with the Cuban people, support civil society in Cuba, or promote the Cuban people's independence from Cuban authorities; and (ii) result in meaningful interaction with individuals in Cuba." Guidance on this requirement states that just staying in a private home, eating at private restaurants (paladares), and buying local goods from private vendors who approach you while you're lying on the beach is insufficient; however, anything that involves actively engaging with locals that goes beyond this appears to be sufficient.
Full-time schedule is not defined in the law, so those looking to interpret this requirement have considered what it means to be a full-time laborer and a full-time student, and it is generally agreed that six hours per day constitutes a full-time schedule based on this analysis. You must participate in activities beyond residing in a private home and eating at private restaurants, but time spent interacting with locals at these places will count towards some of your six hours per day.
It is recommended you set a full itinerary for yourself before traveling to ensure that you will meet the requirements. Visiting local museums and galleries, such as the Revolution Museum, Museum of Beautiful Arts, the Almacenes San Jose market, and Fusterlandia will count towards your itinerary, as well speaking with a local who gives you a tour of the city in his hot pink 1956 Chevrolet convertible. You may also book tours and activities via AirBNB experiences: anything listed here should count towards your full-time schedule as well. A day-trip away from Havana to see how Cubans live outside the city is highly recommended, as is a half-day bike tour around Havana. If you book tours online ahead of time you will not have to worry about spending your precious cash to pay for them in the country.
You should research paladares to include in your itinerary before heading to Cuba, and try to make reservations at least for dinner for all of them ahead of time. Top recommendations include La Guarida, Locos por Cuba, El Del Frente, and La Cocina de Lilliam. For a nominal fee ($1 to $2), most reservations can be set up ahead of time using the website A La Mesa, the Cuban version of Open Table.
Arrival in Cuba
Money (again, it's that important)
I cannot emphasize enough how you should just exchange all your foreign currency at the airport as soon as you arrive. The exchange rate will be exactly the same anywhere in Cuba, but doing this at the airport is quick and convenient, and you won't have to interrupt your vacation for it again if you run out of CUCs later on. In one terminal there are ATM-looking machines that will complete the transaction for you. While there is mixed advice in this area, and in theory there are CADECA money exchange banks available in downtown Havana, the line to get into the bank can sometimes be over an hour long, and banks are often open at inconvenient times. The people in line and bank tellers will also only speak Spanish, so if you only speak English this transaction will be much more difficult than at the airport. You also need your passport with you to exchange money at the bank, and this is something you do not normally carry around with you in Cuba. Save yourself the time taken out of your vacation and just exchange all your foreign currency to CUCs at the airport (I certainly wish I had).
Getting Downtown
There are many normal yellow taxis waiting outside each terminal at Havana's airport to bring people downtown. The price to get anywhere in Havana should be 25-30 CUCs. It is a set price: do not let yourself be talked into paying more unless you are considerably out of the way. To give you an idea, the ride to the intersection of San Lazaro and Calle Galiano from the airport was 25 CUC. Remember how much it cost to get downtown from the airport and don't pay any more than that to return at the end of your trip either. This is a good rule of thumb for any taxi ride in Havana: if you only paid 15 CUC to travel from the Almacenes San Jose market to the Hotel Nacional, don't then pay 20 CUC to return half the distance to your accommodation. Remember, you only have access to the cash you brought with you, so you are not being selfish by protecting it, you're being smart!
Around Havana
Transportation
The easiest way to get around Havana is walking or by taxi, depending on how far you're going. Taxis are plentiful around most tourist parts of the city and hotels, but be sure to negotiate or at least ask the price to a destination before accepting a ride! Most casa particular and AirBNB hosts will help you negotiate the price from your accommodation, since they know how much rides should cost.
If you are brave enough to try local transportation, you may want to hop in a Taxi Colectivo! These cost about $1/person. They run set routes along major roads but will stop anywhere along the route to pick you up or let you off, just verify the general direction you're heading before you get in. To flag a Taxi Colectivo down, stand on a main road and wave your finger up and down about waist height. These taxis seem to be safe, but be warned you may encounter some unique individuals riding in them….
Other available forms of transportation include rickshaws powered by bicycles and Coco Taxis, which are yellow, open-air motorized pieces of metal run by what appears to be a moped. There are no seat belts, they move rather slowly, and there is no protection from the elements if it starts to rain, but these can be a cheap way to get around short distances.
Regardless of how you intend to travel, you should download the maps.me app to your smartphone as well as the map of Cuba within the app before you leave the U.S. This app is minutely detailed and operates without WiFi. Even if your phone is on airplane mode it can locate you using satellites and provide walking or driving directions to any other location on your map. It is one of the most useful travel apps not just for Cuba but for any foreign destination.
Making Purchases
A requirement of the U.S. government regardless of which visa you travel to Cuba on is that you are forbidden from spending money at institutions that are government- or military-owned. A full list of these places can be found here. Aside from these entities, you can spend your money wherever you'd like!
If you intend to purchase cigars or alcohol, know that prices of these goods are controlled, so you will not find a better deal by shopping around. The easiest way to purchase cigars, alcohol, and coffee is at the airport right before you leave. There are shops available outside security if you'd like to place these items in your checked luggage (as would be required with bottles of liquid larger than 100 ml). Otherwise, feel free to and please do purchase souvenirs such as jewelry, paintings, and humidors from local vendors throughout the country as another way to support the Cuban people during your visit.
Safety
So long as you take precautions you would in any big city, Havana is totally safe. Because Castro's government gave everyone a house when he came into power there are no homeless people. There are also strict laws against harassing foreigners as Cuba would like to build its tourism industry. Nevertheless, while I felt safe walking around even dark roads at night, I still wore a cross-body bag and kept my hand on my purse at all times, though this may have been unnecessary: I did not see or hear about any instances of theft or pick-pocketing. Generally if the Cubans are going to try and get money from you, they will do so openly.
A story of caution: on my first day in Havana, my dad and I arrived at the airport around 8am, and went through immigration, the health check (turning in a form that says you're healthy) and customs without paying too much attention to the people we interacted with. Later that day walking down a very busy main tourist road in Havana, we were approached by a local who "just wanted to practice his English" and welcome us to his city. He asked where we were from and when we arrived. He also mentioned that if we wanted to buy cigars there was a huge monthly festival a few blocks away that was selling them for half-price from the factory workers. He then insisted he didn't want anything and bid us good day.
A few minutes later as we were standing outside a restaurant contemplating lunch, a woman who spoke almost perfect English came up to us and said "the Americans! I saw you this morning, I'm an immigration officer! How are you liking Cuba so far?" At the time, my dad and I both thought the other person recognized her from the airport: in hindsight, she was clearly working with the guy up the road, who had gathered enough information for her to approach us. This interaction was followed up by the woman also mentioning the cigar festival and offering to take us there. Not realizing the two were working together at the time, the festival now seemed legitimate, as two separate locals knew about it. There was no festival: instead we were led down a somewhat deserted side street and into an apartment building where the exit was locked behind us. At that point, I gave us a 50/50 chance of being either robbed or killed. We were offered boxes of what I'm sure were fake cigars at "half price," and were only allowed to leave when I insisted I had been asked to buy Romeo y Julietas by a friend (which was true), and these people did not have that type of cigar. After leaving the apartment, the woman insisted on showing us to a "fantastic" restaurant for lunch, and then requested $10 for her and her poor baby. We ended up giving her $5 and said that we couldn't afford any more at the time since we were limited to the cash we brought with us and weren't sure how much we would need, which was true.
In the end, we learned a $5 lesson when it could have been a $300+ lesson, and also got to include this encounter in our journals as an hour of"interacting with locals learning about the cigar industry."
Returning to the U.S.
You will enter the U.S. and go through immigration and customs at the airport at which you land when you first return from Cuba. My experience going through immigration and customs was no different than returning from any other trip abroad. When asked what my purpose was for going to Cuba, I promptly said "to support the Cuban people" instead of "tourism," and the officer smirked and let me go with no other questions. I've heard stories of Americans returning who have been asked by an immigration officer to produce their daily journal of activities (the itinerary or a bullet list should count), photos of all their receipts, and photos of the entire trip to prove the itinerary was followed, so you should be ready to produce those if necessary. You also must maintain all of these things for five years after you return in case you are audited by the Department of the Treasury. Note that even if you are not a U.S. Resident and you are just passing through the United States on a connecting flight back to your country, you will still need to meet one of the 12 U.S.-approved reasons for traveling to Cuba and possibly produce the proof listed above to a customs officer.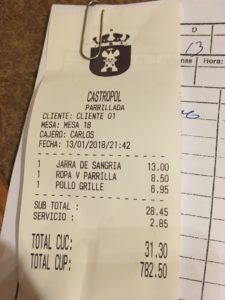 For customs, U.S. Residents (citizens and legal permanent residents) over 18 or 21 are allowed to bring back (for personal use or gifts, but not resale) 1L of alcohol, 200 cigarettes, and 100 cigars. As with returning from any foreign country, U.S. Residents are limited to $800 total of goods brought back into the country for personal use and gifts. Therefore, even though you are allotted 100 cigars, if you purchase 100 Cohibas at $10 per cigar, you will exceed your $800 customs limit. To get around this you may split up items among your 18+ or 21+ family members and/or travel companions: e.g., if you want to bring back 100 Cohibas at $10 ($1000) and your wife wants to bring back 2L of rum ($20), you can each claim 50 Cohibas and 1L of rum for $510 each, which puts you under both the quantity and monetary personal customs limits.
In conclusion, it was considerably easier and cheaper to visit Cuba than I ever thought, so if you have any interest in seeing this beautiful country I would highly recommend it!
Love this post? Save it to Pinterest for later!